Responsible for Equality And Liberty (R.E.A.L.) is calling for activists to join one of a three night protest in the Washington DC suburb of Olney, Maryland. This is to continue R.E.A.L.'s protests against the Olney Theatre Center's "Hitler Musical," in rejection of the racist ideology of Nazism which has attacked the world, caused the deaths of over 6 million Jews, 2 million women, 1.5 million children, and millions of others (including 26 million from Russian and former-Soviet nations).  Nazis have performed and continue to perform in terror attacks around the world and in Washington DC, including recent murders of African-Americans (see R.E.A.L.'s previous report). We cannot "normalize" Adolf Hitler and Nazi images as "acceptable." We cannot make terrorist symbols of racism, torture, and mass-murder into "comic figures" or "Internet memes."
If you find racism, white supremacy, and the symbols of such hate repulsive, and for white Americans – shameful, it is not enough to be repulsed and ashamed. We don't have the luxury to simply do nothing. "Silence is unforgivable." Your actions make our shared history. We need you to ACT.
In-Person Protests: R.E.A.L. is calling for activist protesters to join us on the sidewalk at 2001 Olney-Sandy Spring Road, Olney, MD, in front of the Olney Theatre Center. This week, we will hold these protests on the sidewalk  on Friday July 24 (7-8 PM) and Saturday July 25 (7-8 PM), and the afternoon of Sunday July 26 (1-2 PM).
Please join us one of these nights. It is just for one hour. If you can come, please email R.E.A.L.'s Jeffrey Imm at usa@realcourage.org, so R.E.A.L. can keep a tally of planned protesters to keep the local police updated. We will chant "No, No Nazi." Protest signs will be available. (IMPORTANT NOTE: You CANNOT PARK at 2001 Olney-Sandy Spring Road, but park across the street in the school parking lot for Our Lady of Good Counsel High School at 17301 Old Vic Blvd, Olney, MD 20832)
If you are in the Washington DC area, this is only 19 miles from the U.S. Holocaust Memorial Museum, which was attacked by the Nazi Von Brunn, where he murdered African-American security guard Stephen Tyrone Johns.
Email Protests: R.E.A.L. is calling for activist protesters around the world to send a message to the Olney Theatre Center that you find the racist hate image of Adolf Hitler and Nazi swastikas to be repugnant, and call for the immediate end of this attack on the dignity of our community. You can email the Olney Theatre Center by contacting: Public Relations Manager Heather Andrews (hlatiri@olneytheatre.org), Director of Production Dennis A. Blackledge(dblackledge@olneytheatre.org), Managing Director Deborah Ellinghaus (debbie@olneytheatre.org), Artistic Director Jason Loewith (jason@olneytheatre.org), and the Olney Theatre Center's Board President Jennifer Kneeland (JKneeland@linowes-law.com), and actor Michael Kostroff (auditionpsych101@gmail.com).
Fax Protests: R.E.A.L is calling for activist protesters to also send fax messages to 1-301-924-2654.
Twitter Protests: R.E.A.L. is urging activist protesters to contact to share your views on Twitter to the Olney Theatre (@OlneyTheatre) at https://twitter.com/OlneyTheatre
R.E.A.L. also urges protests to ask those funding this theater, such as the Washington DC-based FTI Consulting, to withdraw their financial support as production sponsor for this "musical."  Please contact their public relations lead Nicole Madison (nicole.madison@fticonsulting.com, 212-850-5647).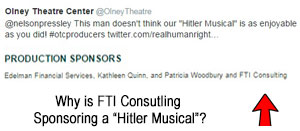 ======================
Why Protest Adolf Hitler and Nazi Imagery?
R.E.A.L. rejects the obscene and racist public imagery of Adolf Hitler and the Nazi swastikas as repulsive, and as an attack on our community's dignity from the same symbol of white supremacist racist hate as the Confederate Flag. But it is more than a rejection of such a symbol of racist hate, it is also a rejection of an ideology of terrorism which continues to attack the United States and the world TODAY. It is not simply a "historical" enemy of humanity; Nazi terrorism remains a near and present danger to people today.
The Olney Theatre Center's argument is that they are doing a musical, called The Producers, which they view as a comedy. The Washington Post calls it a "Hitler Musical caper," and the Olney Theatre has mocked R.E.A.L.'s protests to the Washington Post saying that R.E.A.L. does not enjoy their "Hitler Musical," as much as he did.  Olney Theatre Center tries to justify this as "comedy," but even 1940 comedian Charlie Chaplin wrote: "Had I known of the actual horrors of the German concentration camps, I could not have made The Great Dictator, I could not have made fun of the homicidal insanity of the Nazis."
In the Olney Theatre's "Hitler Musical," its performers sing for Adolf Hitler, his racist "Master Race." The musical calls for the public to "Come and join the Nazi Party!" They view their efforts as "satire." R.E.A.L. views this performance as disrespect for the history and the continuing suffering of humanity against the Nazi terrorist ideology of racist hate.
During our previous protests, members of the theater have come out to harass and mock R.E.A.L's protest, including false portrayal of their identity. We believe such dishonesty demonstrates the character of this production. One harassing member, questioned about the Holocaust, told R.E.A.L. that satire and humor should be used to address the Holocaust and that we should find the Holocaust humorous, at a time when racist Holocaust-deniers around the world mock the killing of 6 million Jews by Adolf Hitler's Nazis.
Hitler and Nazis were also the murderers of 2 million women (including a death camp specifically for 50,000 non-Jewish women), 1.5 million children (including 5,000 disabled children),  between 70,000 – 300,000 disabled adults, 2 million non-Jewish Ukrainians, another 9 million Russian soldiers killed, 11.7 non-Jewish Russian and Russian territory citizens, (a total estimated 26 million killed in former Soviet nations), and the Nazi killing of many others: non-Jewish women, other Europeans, gays, disabled, children, people of African descent, and numerous others. Within the United States of America, 400,000 soldiers died fighting Hitler and his Axis powers.  Millions of soldiers in the Axis powers died fighting to stop Hitler and Nazi ideology.
The Nazi ideology was not just an enemy to Jewish people.  The Nazi ideology was an enemy to the WORLD. The WORLD recognized such an enemy against ALL PEOPLE, with the Universal Declaration of Human Rights, created in 1948, stating its rejection of such atrocities because the "disregard and contempt for human rights have resulted in barbarous acts which have outraged the conscience of mankind." OUTRAGED THE CONSCIENCE OF MANKIND – not laughing at such "barbarous acts."
But what R.E.A.L. has seen, and the public knows, is the repulsive, racist nature of Adolf Hitler and the Nazi ideology, which did NOT END with the war-time defeat of Adolf Hitler, with Nazi terrorism continuing against our nation and the world today. Adolf Hitler's white supremacist Nazi ideology has attacked men, women, Jews, Muslims, gays, Christians, African-Americans, Asians, the disabled, and continues to be a terrorist threat in the United States of America and around the world. Our children, women, and minorities are murdered in this country by Nazi terrorists, while others think this is a joke.
Nazi terrorism in the United States and around the world has grown as "normalization" of such Nazi images of racist hate continue to grow and become "acceptable." Unlike 1968, this is not a few Nazi extremists, but using the Internet, Nazi extremist gangs are becoming a growing global network of Nazi hatred and racist violence, including regular murder and torture. "The Producers" fails to recognize that while audiences laugh at the idea of past Nazis, present day Nazi commit regular acts of terrorism: synagogues are attacked, churches are attacked, African-Americans are killed, children are murdered, women are killed, and gay men are being kidnapped, raped, and killed by Nazi terrorists. These Nazi terrorists are enabled to recruit others in such ideologies of hate, aided in part by the "normalization" of such symbols of hatred.
The normalization of such racist hate symbols and figures continues to erode our shared stance on human rights and dignity, as the United States of America knows all too well with the racist Confederate flag and symbols. 150 years after the end of the Civil War, Americans continue to fight the struggle to defy public symbols of such racist hate, as the Confederate flag. Maryland actors in this "Hitler Musical" argue their view of satire disempowers such symbols, while they sing for Hitler and the Nazi Party, but as Americans have seen 150 years later, perceived satire on the white supremacy Confederate symbols of hate only normalized this, making it "acceptable" for television and films. The terrorism behind such racist hate symbols has continued unabated, and while white Americans shrugged (or God Forbid laughed), African-Americans continued to pay the price with their lives, their human rights, and their dignity. We must defy racist symbols of hate by rejecting their public display with our own free speech.
The racist hate ideology of Nazism did not die or end with the monster Adolf Hitler but has continued throughout Europe and United States, including attacks in Washington DC, murder of Maryland citizens, and attacks and killings of minority houses of worship and African-Americans and other minorities in recent years.
It may seem universal for people of conscience to reject and denounce the hate imagery of Adolf Hitler and Nazism, but inaction and silence is not taking a stand. All that symbols of hate need to become "normalized" in society are for good men and women to DO NOTHING. Just like it took Americans 150 years to start taking down the Confederate flag — the same Confederate racist flag which is used publicly in Europe in those areas where the Nazi swastika flag is illegal.
I am asking you to take a moment of your time to stand to defy a symbol of racist hate which should be repugnant to every person of conscience. For those in the DC area, surely isn't one hour of your time worth standing against the obscenity of Adolf Hitler?
Hitler's white supremacist ideology is not an attack on just one group of people. The Nazi white supremacist terrorist ideology is an enemy to most of the world. The Nazi terrorist and anti-human rights crimes against human beings across the world inspired the creation of the Universal Declaration of Human Rights (UDHR) in 1948, signed by the world's nations. We cannot stand for universal human rights, and shrug our shoulders at this criminal white supremacist ideology.
At the funeral of Maryland's Stephen Johns, murdered by a Nazi terorist at the Washington DC U.S. Holocaust Memorial Museum (USHMM), Dr. John McCoy said: "Silence is not a safe response in the face of racism, sexism, or any of the other isms in this world." "Silence is unforgivable for those who call themselves children of God or even civilized."
Silence is unforgivable.
We have seen what SILENCE has wrought.
— Adolf Hitler's Nazi Racist War against Jews – killing 6 million Jews in the Holocaust, before the Allied defeat of the terrorist Adolf Hitler and his Nazi regime, liberating the remaining last survivors of the Nazi concentration camp. The horrific crimes against humanity by the Nazis against Jewish people are breathtakingly horrific. Throughout Germany, Adolf Hitler promoted the apocryphal Anti-Semitic hate screed the "Protocols of the Elders of Zion," to promote popular hatred and distrust of Jewish people. By 1938, this hate campaign led to an attack on Jewish synagogues and shops throughout Germany and Austria in the Kristallnacht campaign. In 1933, Hitler began establishing his concentration camps. Hitler began rounding up Jewish people and people for concentration camps. Jewish people were beaten, whipped, tortured, starved, and killed. The Nazis used medical experimentation on their bodies, and mutilated them. In 1939, Jewish people were marked with a yellow badge to indicate that they were Jewish. From 1939 to 1941, Hitler's Holocaust of the Jewish people took on a broader focus with his invasion of Poland and other nations. By 1942, Hitler pursued a "Final Solution" for genocide against Jewish people by poison gas centers and concentration camps, with bodies burned in mass crematoriums. In response to Hitler's crimes against humanity, the United Nations and the nations of the world banded together on December 10, 1948 to develop a UNIVERSAL DECLARATION OF HUMAN RIGHTS (UDHR) – to agree around the world that all people, of all identity groups, all religions, would have a universal measure to be protected from genocide. In 2000, this was reaffirmed by world nations in the Declaration of the Stockholm International Forum of the Holocaust, which states "the international community shares a solemn responsibility to fight those evils" of "genocide, ethnic cleansing, racism, antisemitism and xenophobia." Nazis continue to attack Jews around the world, defacing synagogues, killing Jewish people, and plotting terror attacks on them, such as the attack on the Washington DC U.S. Holocaust Memorial Museum. In 2014, the Kansas City Jewish Community Center was attacked by a Nazi terrorist. Nazi terrorism against Jewish people in the United Kingdom continues to increase, including attacks on synagogues and Jews on the street. In June 2014, Nazis attacked a crowd of Jewish people on the street, hurling rocks, flares at them, and stabbing one Jewish man. In March 2015, a Jewish synagogue in London was attacked by Nazis in the streets calling "we will kill you," with 20 members in the synagogue desperately trying to defend themselves with chairs, books, anything to stop the Nazi attack on the synagogue. In May 2015, Nazis marched on Downing Street in London, calling for the end of Jewish people in London.
— Adolf Hitler's Nazi Racist War on people of African descent and African-Americans. Hitler's Nazi regime had a war on those African people living in Germany or the nations it occupied with its white supremacist terrorist forces. As the USHMM has reported, Hitler's Nazis imprisoned, oppressed, and ostracized people of African descent. They lost their jobs, some were sterilized, some were sent to Nazi concentration camps, including African-Americans. At the concentration camps, they were subjected to extreme brutality and medical experimentation; many were worked to death. An African-American U.S. military unit participated in the liberation of one of the Nazi concentration camps. The Nazi war on people of African descent, similar to the Confederate and American slave masters, did not end with the defeat of Adolf Hitler. Nazis in Europe and America continue to target people of African descent for oppression, violence, and murder. In the United States, this has included Nazi terror attacks on African-American Christian churches, by terrorists such as Daniel Cowart, and more recently in South Carolina by Dylann Roof, a Confederate terrorist who was a participant on a Nazi website. Dylann Roof murdered nine African-American Christians during a prayer meeting. R.E.A.L. has previously reported that 180 houses of worship are targets of arson in America every year. We have also reported on the killing of Maryland's Stephen Tyrone Johns, an African-American security guard, by Nazi James Von Brunn who attacked the U.S. Holocaust Memorial Museum. On Nazi/Confederate hate sites such as Stormfront, African-Americans are the constant targets of hate and praise and support for terrorist attacks on them.
— Nazi War on Christians. There were many extremists in Nazi Germany among Christians, including extremists in clergy who were part of the Nazi's Anti-Semitic campaign. But the history of Nazi oppression of Christians is often forgotten both in history and in current day reality, especially when viewed in the historical light that the Nazi goal was to destroy Christianity. Hitler's Nazis persecuted Christians who defied them and who stood for Christian values in Germany.  Aggressive anti-Church radicals like Propaganda minister Joseph Goebbels, Reichsführer-SS Heinrich Himmler led a take over of churches in Germany (the Kirchenkampf), forcing them to reject any Christian values that the Nazi party would not accept. This led to struggles among both Protestant and the Roman Catholic Churches which were occupied by the Nazi racial supremacists. Jesuits were attacked and Catholic properties were taken over by the Nazis. Clergymen were sent to concentration camps, and Nazi Himmler sought to end the "principle of Christian mercy" among the German people, which was part of a long-term goal to end Christianity in Nazi Germany. As part of war criminal trials, the United States Organization of Strategic Services (OSS) developed a document on "The Nazi Master Plan" to destroy Christianity in Germany. As Nazi Baldur von Shirach wrote "the destruction of Christianity was explicitly recognized as a purpose of the National Socialist movement." Nearly 2000 Polish Christian clergy were sent to the Nazi concentration camps.  The Jehovah Witness religious adherents were singled out for oppression and sent to concentration camps. The attack on Christians by the Nazis did not end with Adolf Hitler or WWII. The continuing Nazi racist ideology remains focused on rejection and terrorism of Christianity around the world. In April 2015, this included a Nazi terrorist bombing at Orthodox parish of Saint Vladimir in Marzahn-Hellensdorf, near Berlin. In the United States, this has included efforts by Nazi terrorists to attack African-American churches, such as Daniel Cowart's attack in Tennessee and Dylann Roof's attack in Charleston, where he murdered 9 African-Americans. In April 2014, a Nazi terrorist killed three Christians in Kansas City, who were preparing for a play, including a 14 year old boy, Reat Griffin Underwood (a Boy Scout), his grandfather, and another woman. As R.E.A.L. has investigated in the USA, Nazi terrorists view the end of Christianity to be a priority for the goals. Therefore, Nazi terror attacks on Christian churches fits within their ideology. Stormfront Nazis post that their racial identity is their only religion.  Christians have a particular responsibility both as victims and the historical responsibility of those extremists with white supremacists to protest and reject Nazi and Hitler.
— Nazi War on Muslims. As R.E.A.L. has repeatedly reported, Nazi individuals and groups targeted minority Muslims in the United States, Europe, and other parts of the world. As reported recently in Arizona, mosque protesters included Nazis among armed protesters in the crowd. In Tennessee, Nazi terrorists who were members of the "Aryan Alliance" firebombed the Islamic Center of Columbia, south of Nashville, after they painted Nazi swastikas on it; Michael Corey Golden got 14 years in prison, and his fellow Nazi terrorists were convicted and imprisoned. Anti-Muslim extremists on Stormfront Nazi site regularly use racial supremacist ideology in their basis to call for ethnic cleansing of Muslims. In the United Kingdom, in March 2015, Nazi swastika flags were flown in the British streets of Newcastle as part of extremist anti-Muslim campaigns, and in Newcastle, Nazi swastikas were defacing mosques. In the United Kingdom, Nazi Ian Forman were jailed for 10 years in a twisted plot to blow up mosques across the Merseyside, UK area. Nazi Ian Forman spoke of his admiration of Adolf Hitler; the judge who convicted him stated that his activities "were a continuation of Nazi warfare." In Europe, this has included recent Nazi attacks and swastika defacing on Muslim mosques in Dormagen, Germany, in Leipzig, Germany, in Vienna, in Tyrol, Austria, in Stockholm, Sweden, in Provins, France (outside Paris), at a mosque construction site in Meaux, France. We have reported on similar Nazi group activities against mosques in Denmark and throughout Europe. In Australia, Nazis have attack Muslim mosques in Perth, Australia; Nazi attacks on mosques have included the Nazi terror group C18 that fired gunshots into the dome roof of the Suleymaniye Mosque. After the attack on the U.S. Holocaust Memorial Museum, Muslim leader Asma Hanif stated "Someone who will demonstrate hate like this will do it in any community." "Whether it was the Holocaust or slavery, the only reason it prevailed is because it was tolerated. We have the right and the authority to end it."
— Nazi War on Homosexuals. Adolf Hitler's Nazis attacked homosexuals, using a special Gestapo branch to order police to develop "pink lists" on homosexuals all over Germany. The Nazis then arrested 100,000 homosexuals for imprisonment, and also sentenced gay men to Nazi concentration camps. The Nazi concentration camps identified prisoners wearing a pink triangular patch (rosa Winkel) on their uniforms. They were beaten, abused, tortured, killed, and their bodies were mutilated, including castration of hundreds. At the Buchenwald Nazi concentration camp, Hitler's Nazis performed medical experiments on homosexuals' bodies as part of their monstrous torture on other human beings. Nazi terrorism against homosexuals did not end with their idol Adolf Hitler. Nazi terrorist groups continue to target and attack LGBT individuals and groups as part of the Nazi ideology. A Russian Nazi terrorist group used a popular social network to lure in gay teenagers, then kidnap them, bully, and torture them, making videos of their humiliation to share on the public Internet. Threats and targeting of homosexuals by Nazi terror groups within the United States and Europe remains a common theme within the goals of groups.
— Nazi War on Asians and Pakistanis. Adolf Hitler's Nazis may have had allies in imperial Japan, but it is often forgotten that the Nazi and Axis war on Asians included attacks on Chinese and Philippines, including the torturing and raping of thousands of Philippine women. Adolf Hitler's white supremacist racist views were that Chinese people were considered as "untermenschen," or "sub-human." The modern European and American Nazi adherents have used their white supremacist ideology to spread hatred against Pakistani and other Asian people, as part of their racist views. In the United Kingdom, this has included regular Nazi attacks on Pakistan immigrants, and crowds of Nazis in the streets of London screaming and taunting Pakistan people. In Greece, members of the Nazi party "Golden Dawn" stabbed a 27-year old Pakistani man Shehzad Luqman to death, with two Greek Nazis getting a life sentence for the murder of the Pakistan man. Over 70 of the Greek Nazis have been under investigation in connection for murder and belonging to a criminal group. Modern-day Nazi racist white supremacists view Asian and Pakistan people as "untermenschen" even today, and Pakistanis in Europe are regularly targeted for attack by Nazis.
— Nazi War on Disabled. Adolf Hitler's racial supremacy included the killing of disabled individuals as being inferior to his racial master race. This included the murdering of 5,000 disabled children and also the development of a program to murder 70,273 disabled adults. In 1939, Hitler's Nazi team encouraged parents of children with disabilities to bring the children to specialty pediatric clinics. But what Hitler actually had the Nazi hospitals do was to murder the disabled children through lethal drugs or starvation. When the Nazi child-killing program began, it was initially designed to murder infants, but the Nazis then increased the murder program to kill children up to 17 years of age. The "T4" program for adults created six installation of gas chambers for disabled adults throughout Germany, killing over 70,000 such disabled adults. The Nazis also murdered disabled patients in hospitals in mass shootings, as well as "gas vans" to murder disabled people in their occupied territories. An Italian study has shown that the Nazis killed up to 300,000 disabled individuals.
— Nazi War on Women. In addition to the Nazi war on Jewish women, Adolf Hitler built a separate Nazi concentration camp designed specifically for non-Jewish women at Ravensbrück, which was situated about 50 miles north of Berlin. Approximately 130,000 women were sent to this women's concentration camp, 50,000 of which were murdered (gassed, shot, starved), including 2,500 women killed in Hitler's gas chambers in one weekend. As reported by Sarah Helm, the Nazi attack on women included every walk of life: doctors, opera singers, politicians, prostitutes, members of the resistance. Women were worked to death, and those who became too ill were selected for extermination by being shot or sent to the gas chambers. The Nazis conducted medical experiments, including testing new ways to kill women, freezing them to death in the snow, and letting dogs rip into the women. They sexually abused the women with rape and infected some women with bacteria to experiment on their bodies, including "syphilis being injected into the spinal cord." After Adolf Hitler, the Nazi terrorist war on women has continued, with Nazi violence against women around the world and throughout the United States, including the well-publicized rape attacks by Nazis in Massachusetts, Nazi rapist in Arlington, Virginia, and child molesters among Nazi leaders. The amoral Nazi ideology to prey on those they view as vulnerable leads them to such hate of women. The Nazi war on women has included the murder of African-American women by Nazis in the United States, including the recent terror attack in Charleston, South Carolina where six African-American women were murdered by terrorist Dylann Roof (a poster with the Nazi Daily Stormer group).
— Nazi War on Children. Hitler and his white supremacist Nazi organization murdered over 1.5 million children. But this Nazi war against our vulnerable children was not the end of such crimes against humanity, which continues today. Is there any Evil darker in the human imagination than child genocide and moral corruption? If we stand in support of the rights of our vulnerable children around the world, then we must also stand in defiance of those who would abuse them, torture them, and murder them, even in the face of those who would "normalize" such criminal terrorist groups, ideologies, figures, and their symbols which have attacked our children, and have led the genocide against our fellow human beings. We must reject such Nazi terrorists, their leaders, and their symbols, involved in the worst crimes against humanity – attacking the most helpless among us – our children.
During the Holocaust, Adolf Hitler and his Nazis murdered an estimated 1.5 million children, which included 1.2 million Jewish children, as well as 300,000 non-Jewish children. The Nazi war on children also included Hitler's plans to exterminate disabled children under his "T4" program, where he sent 5,000 disabled children believed to be going to hospitals to be poisoned, starved, or gassed. Such killings of helpless children began in 1939 and continued through the war.
Hitler's Nazi concentration camps murdered children from 1941 through 1944, when Allied troops started liberating camps in 1945. Jewish and Non-Jewish children from Germany and occupied territories were put on to "resettlement" trains for their extermination. Trainloads of children and their mothers, were rounded up, and sent to such Nazi death camps. Frequently, children were killed when they arrived at the death camps, particularly those who were too young to be used in slave labor. Children healthy enough to do labor were often worked to death. Some children died from disease in the appalling conditions of the concentration camps.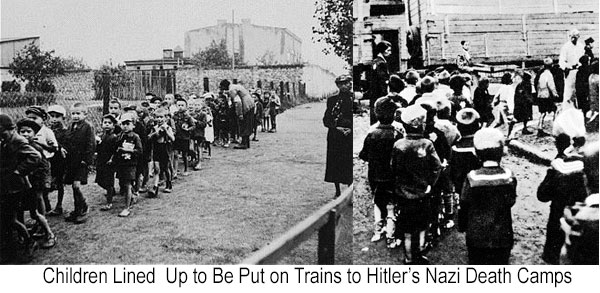 In the Auschwitz concentration camp, some children were medically experimented on, including experiments on child twins, by the Nazi monster Joseph Mengele.
Some children, such as Anne Frank, were hidden for a while or rescued. But teenager Anne Frank and her family was eventually arrested by the terrorist Nazis in 1944 and taken to Auschwitz and eventually transferred to the Bergen-Belsen concentration camp, where she died from typhus.
In Anne Frank's diary, the teenage child wrote from her hiding place before her capture: "In the evenings when it's dark, I often see long lines of good, innocent people, accompanied by crying children, walking on and on, ordered about by a handful of men who bully and beat them until they nearly drop. No one is spared. The sick, the elderly, children, babies and pregnant women—all are marched to their death."
In popular culture, we prefer to hear of the stories of the few thousands that were rescued of these children, but our conscience cannot bare to look at the 1.5 million children who were murdered by Nazis. We make this mistake at the peril of allowing history to repeat.
Yet even this horror of murdering 1.5 million children was not enough for the Nazis, whose war on children continues today.
After the defeat of Adolf Hitler, the Nazi ideology has continued to live on among Nazi white supremacist groups throughout Europe, the United States of America, and around the world. These advocates of this absolute evil use the "normalization" by those who no longer remember such Nazi atrocities against children to deny that such crimes against humanity exist. They leverage the effort by those who portray their Nazi racist idols with "gentler" views as "humane" or "comic" views, not as the monsters that who murdered such helpless children.
This "normalization" process of Nazis as something other than immoral terrorists against humanity aids in the Nazi ongoing recruitment effort, helping them make Nazism more "acceptable" in twisting the minds of young people to accept their racist, white supremacist goals. Combined with the global ability of collaboration through the Internet's World Wide Web, Nazi recruitment has resurfaced in the 21st century, especially in the past 10 years.
The deliberate failure of unquestioning moral condemnation to such immoral Evil being taught to new generations has led to more killings of our children, as well as Nazis teaching indoctrinated children to be killers.
Last year, in April 2014, one such Nazi in the United States of America shouted "Heil Hitler," after he murdered a 14-year old little boy in Kansas City. The child victim of the Nazi terrorist attack was a Boy Scout named Reat Griffin Underwood. It would have been his birthday in May. He would have turned 15 years old. But an American Nazi murdered this child who trying out for a singing role in a play at the Kansas City Jewish Community Center and killed his grandfather, and another woman taking care of her elderly mother.  By the way, this little boy was a Christian.  But Nazi terrorists don't really care when they murder our children.  All of our children, of all faiths, of all races, are targets for these enemies of humanity.
This boy's only goal was to sing, but an American Nazi terrorist silenced his voice forever. You can watch as this child sang the Star Spangled Banner of America, singing of the "Home of the Brave." But will the American people be brave enough to DEFY Nazis and their terrorist symbols, which have murdered SO MANY CHILDREN?
In Gilbert, Arizona, another child was murdered by a Nazi from the "National Socialist Movement" group (which was part of Confederate Flag protests on July 18, 2015 in Charleston, SC). Nazi terrorist J.T. Ready murdered this 2 year old baby, Lilly Mederos, her mother, and another man. Do we not have the moral integrity to defy and reject those who murder babies and the symbols of their terrorist cause?
Then there are the children impacted by such continuing terrorist attacks. In Washington DC, at the U.S. Holocaust Memorial Museum, we remember the murder of African-American Stephen Tyrone Johns by Nazi James Von Brunn, but his children were left without a father.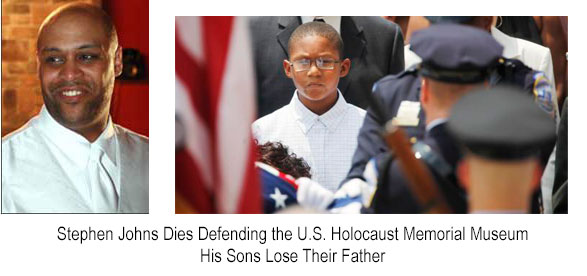 In Skokie, Illinois, a 10 year old girl Kelley Byrdsong watched her African-American father get gunned down in the street by a Nazi white supremacist Nathaniel Smith, as part of a racist shooting spree across two states, killing Won Joon Yon, a Korean-American college student on the campus of Indiana University, and wounding six Orthodox Jewish men in nearby West Rogers Park, two African-American men in Springfield, a Taiwanese man in Urbana and another African-American man in Decatur, Illinois.
In the most recent June 17, 2015 terrorist attack in Charleston, South Carolina, we remember the nine African-American victims of Nazi/Confederate Dylann Roof, but those victims left behind children who lost their fathers and mothers, including Reverend Clementa Pinckney, whose young daughters were hiding under the church bench in Emmanuel AME church, during the Nazi terrorist attack.
The "tolerance" and "normalization" of the Nazi ideology and white supremacism has resulted in real victims with names and faces. It is not just some "theoretical" issue, but a human rights issues with tragic consequences that destroy our children's lives. It is NOT "JUST HISTORY." When we fail as a society to shame, reject, and denounce the symbols of Nazi terrorism, we see children and their parents DIE.
But if there was a fate worse than death, perhaps it is in our society's silence in defying Nazism and its symbols, so that the the merchants of racist hate can corrupt the minds and the souls of our children.
In R.E.A.L.'s human rights campaign to challenge white supremacy and Nazism, we have seen numerous images of children posing for Nazi campaigns, which we will not share with the public. The images of such children posing to make Nazi salutes is something that should repulse all people of conscience, but due to the years of "normalization," such Nazi indoctrination of children has continued for decades, idolizing Adolf Hitler. This has included recent reports in Europe of the Nazi Greek "Golden Dawn" society teaching young children to chant "Heil Hitler."
The corrupted children who are led to believe that Nazism and its symbols are acceptable and good, go on to lead twisted lives that damage themselves and our society.
In the United Kingdom and Europe, this frequently leads to young people who attack people of minority religions and races, such as the young Nazis attacking children in a London synagogue in March 2015.
In the United States, this also leads to the twisted amalgamation of Nazism and Confederate ideologies, which are used to teach children to hate and commit violence against African-Americans and others. This included those who taught young Daniel Cowart and Paul Schlesselman their Nazi white supremacist ideology, and who then attacked African-American churches, before they were put in prison for a terrorist plot to kill 102 people in church.
We have also seen how such indoctrination taught Dylann Roof to become a terrorist, in his attack on the Charleston, South Carolina church killing 9.
There are consequences in our society when we fail to speak out, defy, and reject Nazism and its ideology, and when we allow the "normalization" of Nazi figures like Adolf Hitler and its symbols to be viewed as something other than the Absolute Evil they are. Some think we can reduce the horrors of this by laughing at it, but then as now, those adults who failed to take such terrorist threat seriously let OUR CHILDREN PAY THE PRICE. We can and we MUST do more to protect our children from the Nazi ideology and reject the "normalization" of Nazi figures and symbols as "acceptable."
Perhaps in a society which increasingly has contempt for human life, these horrors against our children may have limited impact on society. But for those who think we can afford NOT to judge the Nazi ideology of white supremacist hate and its architect Adolf Hitler, as anything less than immoral Evil which must be condemned in every case, I urge them to LOOK INTO THE EYES OF THESE CHILDREN.
Can they look into the eyes of these child victims and tell us how we should not be concerned about the racist hate images, ideology, and symbols of Nazism? Can they look into the eyes of these children and tell us that we can "laugh" at "satire" on the immoral monster Adolf Hitler?
Our eyes are the windows to our souls. Can your soul look at the eyes of children murdered by German Nazis and modern Nazis and accept that we must DEFY Nazi white supremacism and its symbols, without question and without exception?
======================
But the Olney Theatre Center in Maryland thinks that Adolf Hitler is a comic figure for a musical. They think we should sing for Hitler and the Nazi Party, because they believe that is "funny."

It is not enough to support our shared universal human rights. We must also have the shared responsibility and activism to defy anti-human right campaigns, to challenge racist groups that reject these shared human rights, and to defy racist images of hate.
To people of conscience, to people with any human dignity and respect for your fellow human beings, whether you associate with any of these identity groups targeted by Nazis or not, we must stand to defy and reject the racist symbol of Nazism in Maryland.
It is an obscene insult to those who have suffered from such racist hate, to use this monster who led and who continues to inspire such worldwide terrorism, as a comic figure, while people in so many different identity groups, have died, suffered, and continue to face tragedies in the United States of American and around the world.
As Dr. Martin Luther King, Jr. stated: "In the End, we will remember not the words of our enemies, but the silence of our friends."
As they have their free speech, we must also exercise our free speech, and condemn without qualification, this "Hitler Musical" in Olney, Maryland.
Silence is unforgivable.