To those who have actively shared the struggle for our universal human rights within Pakistan and around the world, we have seen how those "offended" by comments regarding their religion can lead to denial of freedom, imprisonment, violence, and death, including denial of freedom of religion itself. Our universal human rights and the laws of free nations must reject any acceptance of violence as a "normal" response against those who feel their religious views are offended.
On January 16, 2015, in response to a question on the recent terror attacks in Paris, CBS News and other media have reported that Roman Catholic Pope Francis made remarks that "One cannot provoke, one cannot insult other people's faith, one cannot make fun of faith." Pope Francis continued, "If Dr. Gasbarri, a great friend, says a swear word against my mother, he's going to get a punch in the nose. That's normal, it's normal. One cannot provoke, one cannot insult other people's faith, one cannot make fun of faith." Pope Francis concluded that: "There are so many people who speak badly about religions, who make fun of them… they are provocateurs. And what happens to them is what would happen to (my dear friend) if he says a word against my mother."
Many would like to dismiss Pope Francis' comments as unimportant, given the Pope's condemnation later that "one cannot make war (or) kill in the name of one's own religion."
Responsible for Equality And Liberty (R.E.A.L.) respectfully disagrees with Pope France that insults to other people's faith could "normally" expect a "punch in the nose." With all due respect to Pope Francis and his 1.2 billion Roman Catholic worshipers, R.E.A.L. disagrees, based on our universal human rights, and based on the laws in free nations. Moreover. we have seen what happen in nations which abandon such universal human rights and who reject such freedoms, such as Pakistan.
The reality is, certainly in Pakistan, that those "offended" by debate over religious views have led to rules of blasphemy to control public discourse. These rules of blasphemy have been used to conduct a war on other faiths, and have allowed "killing in the name of one's religion." Yet it started with the simple view that such violence against "provocateurs" who offended your religious views was "normal" and somehow acceptable.
Pope Francis' statement that such violence is a "normal" response to those who "insult other people's faith" is a serious challenge – especially for Pakistan Christians and other religious minorities struggling for freedom and survival in Pakistan. In Pakistan, we have seen the human rights and religious freedom challenges that result from the type of thinking Pope Francis suggests, and how it has migrated into an oppressive blasphemy law and religious oppression and violence. This has included oppression and violence against Roman Catholics, among other people of faith.
In the nation of Pakistan, those who "insult" the Islamic faith (as defined by the government) are subject to criminal prosecution of "blasphemy," under the oppressive Pakistan penal code Section 295-C. There is no real definition for what such "blasphemy" is; this allows it to become the opinion of whoever chooses to use this law to oppress others' human rights. This "blasphemy" law and the social environment it promotes has been used to oppress, harass, and kill people of various religions, all "in the name of one's own religion."
Pakistan government minister Shahbaz Bhatti opposed this Pakistan law within the government. He was the only Christian member of the Cabinet in Pakistan. For his stand, Shahbaz Bhatti was shot to death in March 2011. In January 2011, the governor of Punjab province, Salman Taseer (a Muslim), was also murdered for speaking out and challenging the Pakistan blasphemy law. Salman Taseer was shot 27 times by his own security guard, and 500 Pakistan clerics sought to ban public attendance at his funeral.
Pakistan Christian woman Asia Bibi (Aasiya Noreen) was convicted of "blasphemy" by a Pakistan court and has been on death row for over four years, despite the efforts of decent and courageous individuals struggling for her freedom. She was imprisoned because of an argument with some other women who were offended that such an "unclean" minority Christian would be drinking the same water as the Muslim women. When her religion was offended, she argued with them, and she was threatened with being charged with blasphemy if she did not convert to Islam. She refused this threat, and refused to renounce her religion. She was then charged with blasphemy. Since as a non-Muslim, her testimony was not as valuable as a Muslim's testimony, she was convicted, and given the death penalty.
People around the world continue to struggle for her Asia Bibi's freedom, and the former Pope Benedict spoke out for her. In respecting her oppression for religious freedom and her personal struggle for survival, surely her fellow Christians and Christian leaders can stand firm in rejecting the idea that it is never "normal" for violence and oppression against those who "offend" someone's religious views.
Governor Salman Taseer spoke out in support of calling for her freedom, which cost him his life. This is what happens when it becomes "normal" in a society to allow violence to those who offend one's religion, Pope Francis. This is the cost.
The blasphemy law took part in what many human rights activists have called the "Black Day" in Pakistan, when a false blasphemy charge was issued against two teenage brothers in the Punjabi city of Gojra. But the charges never made it to court. A mob of 20,000 "religiously offended" individuals marched to Gojra, Faisalabad and in the nearby village of Korian, known as "the Christian Colony" in 2009 and burned it to the ground, burning churches, homes, and killing the elderly, women, and children, most burned to death. More than 60 homes were destroyed, and 8 Christians murdered, with many more injured.
In response, human rights activists and Christians protested at the United Nations headquarters in New York City, and a year later an interfaith group held a remembrance to reject the blasphemy law in Washington DC. But over four years later, the lessons of Gojra have still not be learned. As of 2013, the Pakistan Christian Post reported that the murders who were "religiously offended" and who murdered Gojra Christians continued to remain free.
In November 2014, another Pakistan mob of 1,200 people claimed "blasphemy" that they were "religiously offended" as a justification to publicly torture and murder a Christian couple, Sajjad Maseeh and Shama Bibi, in front of their young children. They tortured the couple, broke their legs, and burned them alive, while the murderous mob chanted religious slogans from the Qur'an. The armed police stood by and did nothing to the unarmed crowd, and the remainder of the "police response" came after the couple was dead.
Christian brothers Pastor Rashid Emmanuel and his brother Sajid were arrested for blasphemy because a pamphlet had their name on it, and was allegedly disrespectful. They never made it to court. They were shot down in broad daylight while on the court steps. Those Christians who protested their murder were tear-gassed to silence them.
Pakistan Christians Shagufta Kausar and her disabled husband Shafqat Emmanuel were given a death sentence on blasphemy based on claims that blasphemous text messages were issued on a mobile phone that she had lost. The Pakistan Christian Post reports that during court hearings it was learned that the couple are "not educated and unable to send text messages in English and police failed to produce any forensic evidence of cell phone record and police tortured to get guilty plea from their clients."
The Pakistan's blasphemy law is also used to oppress other Muslims and people of other faiths.
British Ahmadiyya Muslim man, Masud Ahmad, was targeted for blasphemy as a member of a minority Muslim faith, and his "crime" was being tricked into reading the Qur'an in a public space. Thankfully, he was freed in April 2014, but he has a first hand memory of the ordeal of what religious intolerance will do to people.
Muslim Muhammad Asghar was also arrested and faced death penalty for letters he had which were viewed as "blasphemous," and he was shot in jail by a police officer.
After being released from "blasphemy" charges, another Muslim, Abid Mehmood, was shot to death 25 miles from Pakistan's capital.
Nor does this blasphemy" oppression only extend to the average person, Pakistan's Ambassador to U.S. Sherry Rehman was accused of "blasphemy" in 2013.
Pakistan courts are also calling for the arrest of individuals living in foreign countries for "blasphemy" such as actress Veena Malik, who is living in the United Arab Emirates.
In recent years, there have been many others oppressed by Pakistan's blasphemy law, including
— Hector Aleem a Christian human rights activist in Pakistan
— Raja Fiaz, Muhammad Bilal, Nazar Zakir Hussain, Qazi Farooq, Muhammad Rafique, Muhammad Saddique and Ghulam Hussain – who were imprisoned for blasphemy and "forced to parade naked, and were suspended from the ceiling and beaten."
— Shahid Nadeem in the missionary school of Faisalabad
— Ayub Masih, Pakistan Christian
— Dr. M. Younus Shaikh M.D.
— Mohammad Younus Shaikh of Kharadar, Pakistan.
At the moment you read this, there are people hiding, running for their lives, and living in daily oppression because of wild accusations of "blasphemy" made against them by someone with a grudge or someone who rejected them because they had a different religious faith. Many are Christians or other religious minorities living in oppression, in fear, and perhaps fleeing for their lives. Responsible for Equality And Liberty (R.E.A.L.) has been contacted directly about such Pakistan individuals in hiding due to their fear of blasphemy charges. I would urge Pope Francis to hear their cries, and consider the oppression that such a view that violence is "normal" for those whose religious views are offended.
In this context, how does the argument by Pope Francis sound that it is "normal" to seek to respond with violence to those who "offend" your religious views? It is not a "theoretical" issue to our brothers and sisters suffering in Pakistan today. It is the painful reality for Christians, Hindus, minority Muslims, Sikhs, and all other people oppressed in Pakistan.
But the oppression of religious minorities and others by those whose religious views are "offended" does not end with only blasphemy charges and mob violence.
"Provocations" by words and pictures are not the only source of "offense" to some who view their religion is "offended." In fact, we know that there are those who claim they are "offended" and "provoked" simply by the practice of another religion in their city, their state, their nation. Acts of worship by people of other religions are viewed by some as a "provocation," "insult," and "offense" to some. As I have described in other articles, the view by some extremists is that the very act of worship by another, different religious faith is an "offense" and "provocation" to the extremist religious groups and individuals.
Throughout Pakistan, we have seen minority religious groups' houses of worship attacked, burned, and bombed by those "offended" by the act of worship by others – by a wide range of groups rationalizing sectarian violence based on "offense" to their religion, Christians, Ahmadis, Shiites, Hindus, and other faiths.
In Peshawar, the All Saints' Church was attacked during a Sunday Christian worship service, by two suicide bombers, who murderous attack resulted in 80 dead and 150 injured.
In Gojra, the "Black Day to Freedom" attacks included burning of a Christian church as part of the mob of 20,000 attacking that Christian area.
In Karachi, the Nasri Pentecostal Church in Shah Latif Town was attacked, vandalized, with Bibles burned, with another church bombed in Cantonment Area of Mardan City.
In Wah Cantt, the St. Thomas Roman Catholic parish was attacked, and attempts were made to burn it down.
There are so many more attacks on Christian houses of worship in Pakistan – attacks on the St. Dominic Church Bahawalpur, Islamabad Protestant Church, Chianwali-Daska Sialkot Church, Sangla Hill Church, churches attacked in Karachi and Sukkur, St. George Grecian Church. The grim list of terrorist intolerance by those who are "offended" goes on and on. This is not an encyclopedic study, nor is it intended to be. But the point is that human rights and security problems in a nation which legalizes "blasphemy" become nearly endless.
For the sake of my Catholic Christian friends, I first pointed out how this perspective on "religious offense" is a life and death struggle for their fellow Christians. But such oppression certainly does not end only with Pakistan Christians, and it continues to other religious minorities and people in Pakistan.
The attacks on houses of worship of religious minorities extends to Ahmadiyya, Shia, Hindu, Sufi, and other houses of worship. In addition to this violence, the sectarian violence throughout Pakistan extends to every part of the state: targeted killings, violence in markets, processions, other public areas, as well as kidnappings, and forced religious conversions.
This has included:
— In Lahore, terrorist attacks on two Ahmadiyya Muslim mosques, with grim and horrific casualties during Friday prayers by two suicide bombers, killing nearly 100 worshipers
— In Parachina, near a Shi'ite mosque, suicide bombers killed 8 and wounded 7
— In Rawalpindi, terrorist attack during worship in the Chitian Hatian area at a Shia Imambargah mosque and worship hall.
— In 2010 and 2011, 128 people were killed and 443 were injured in 22 attacks on Sufi shrines and tombs of saints and religious people in Pakistan, most of them Sufi in orientation
— In Sindh, the burning of a Hindu temple in the Tando Mohammad Khan area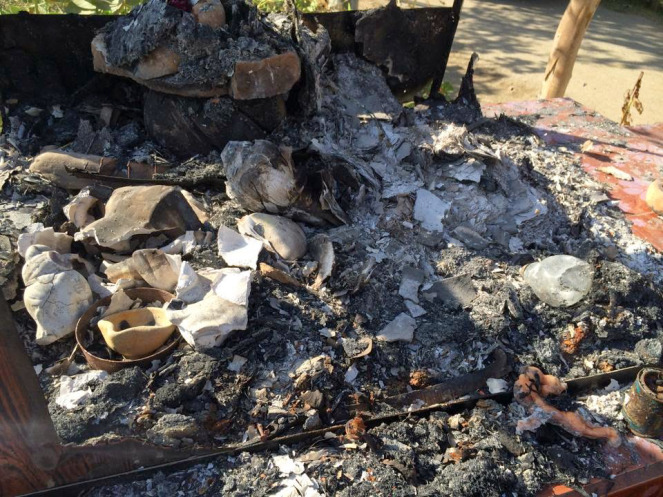 — In Larkana, the burning of a Hindu temple and a dharmashala in Jinnah Bagh Chowk area
— In Hyderabad, the burning of a Hindu temple near Fateh Chowk in Hyderabad, Sindh
It is notable, that when those "offended" by the religious practices of others burn and bomb the houses of worship of other faiths, the burned out remains look very much alike.
Such bombings and burning of diverse house of worship are all "terrorist" violence, which all sane people reject. This includes, of course, Pope Francis and all rational leaders who reject offensive comments to our religions also condemn. Pope Francis has specifically spoken against such terrorist violence and condemned this.
Pope Francis' comments only indicated that someone who was provoked by those offending their religion, could reasonably expect a "punch in the nose," for their offense, and that this was "normal." Such comments may seem "harmless" to some.
But the pathway from the religiously pious offended giving a "punch in the nose" and the silencing of remarks considering offensive to religious leaders is a very short path to legalized and social "blasphemy" oppression. That is what has become "normal" in Pakistan.
When this becomes "normal" in a society, the next steps to routine terrorist violence against those whose other religious practice "offends" others becomes yet a new and more destructive "normal," as we have sadly seen in Pakistan and other parts of the world. Then, burning a Christian church and blowing up a minority Muslim faith's mosque becomes "normal" in such oppressive societies which lack the universal human rights which all human beings must have, including freedom of speech, freedom of religion, and the human rights of security and dignity.
We must learn the lesson of the mistakes in Pakistan of how wrong this path is for our shared human rights, human dignity, and security.
There has been blood literally running in the streets in Pakistan and in nations around world – all based on the view – that if someone offends your religious beliefs, there is a right to deny their human rights, there is a right to commit violence against them, there is a right to kill such individuals.
The nations of the world, the religious leaders of the world, and the government leaders of the world must reject such views without question and without qualification.
We don't have to "imagine" what a world would look like where it is considered "normal" to use violence in response to an offense against your religious views. We already know what that world looks like today. We see it Pakistan, we see it in Saudi Arabia, and we see it in far too many other nations. But with Pakistan, the "blasphemy" law makes it very clear what will happen when we choose to silence anyone who "offends" your religious views.
Certainly, we need to continue to press for change and reform in Pakistan and around the world to promote religious and social liberty, freedom of speech, freedom of worship, and yes, even the freedom to offend and be offended. When the "normal" answer to every offense is violence, then violence will destroy every freedom we have.
We must urge our brothers and sisters in Pakistan to rise above the oppression that they have imposed upon themselves and others, and accept that our religious faiths all have the strength and resilience to accept criticism, diversity, and even offense. Our faiths and their pious believers can be stronger, wiser, and patient enough to let their actions of peace and dignity speak for themselves.
We must have change in Pakistan to release its people from the prison that intolerance has created. The rejection of our shared freedoms and the intolerance in Pakistan have turned the nation into a giant prison. Imagine a prison without walls. A prison where religious extremist laws and extremist social peer pressures can be used to oppress and harass people of any religious minority. A prison where people may have the illusion of freedom, but where mobs are allowed to burn down their homes, cities, and even kill them in the streets without fear of the authorities. A prison where the barbed wire, cell bars, and concrete walls are made up of religious extremist blasphemy laws intended to oppress any individual in the name of a religion.
This is where Pope Francis' comments lead us – starting with the idea that it is "normal" to seek violence against those who insult one's religion. It is easy to laugh off the "punch in the nose" comment, until you see where this thinking leads. This approach leads to the people in jail, the people shot in the street, the people burned alive, the churches and mosques burned and bombed, the neighborhoods attack and burned. That is why it is so important to challenge these views.
As a Christian myself, Christians must reject Pope Francis' comments based on the Christian Bible teachings in Romans 12:17-21. Since I am a Christian, and I have the struggled for an end to the suffering of my brothers and sisters in Christianity and other religions, I am profoundly troubled by the pontiff's remarks. I do not presume to represent myself as anything other than the meekest and poor excuse for a Christian that I know. But I do know the words of the Bible, and the direction of Jesus Christ on such matters. I know Pope Francis does as well. They do not support his position on this topic. We all make mistakes and say things that we regret. With all respect for his religious learning and wisdom, I will pray for Pope Francis to see that his remarks were not correct and not in keeping with his own faith, and that he will publicly retract such remarks.
To my Roman Catholic friends, I apologize if my comments have insulted your religious leader Pope Francis. I am a long time defender of the Roman Catholic Church's religious freedom both publicly and privately. So I am uncomfortable with disagreeing with Pope Francis, and giving the inaccurate impression that I don't stand with my brothers and sisters in humanity within the Catholic Church. Nothing could be further from the truth.
But I don't know how one could know about all the oppressed people imprisoned or running for their lives, all the destroyed and burned down houses of worship, and all the caskets of the innocents, who have suffered because of such views on "blasphemy" and "religious offense," and remain silent. I don't how I could have prayed with my Christian, Muslim, Hindu, and other religious friends for an end to such violence and for those suffering and killed as a result of such views on "blasphemy" and remain silent when such world religious leader states that it is "normal" for violence as a result of an insult against one's religion.
Based on my interfaith discussions with many people of different religions, I really don't see how God, how our religious leaders and symbols, would be so insecure that they need us to "punch" for them due to some offensive remark, some cartoon, or someone else's worship. I don't see how people of faith can honor their holiness by unholy acts of hatred, strife, and violence.
Pope Francis, as a Christian myself, I know that Jesus Christ does NOT need me to "punch someone in the nose" for him. I would ask my Catholic friends and all of our religious brothers and sisters of any faith to make a similar statement on Twitter at #Religion4Peace.
The people we pray to do not need our upraised fists; they need us to set an example by our outstretched hands. That is the real courage they seek from us to demonstrate in this world.
Responsible for Equality And Liberty (R.E.A.L.) calls for the promotion of our shared universal human rights in every part of the world, we support our religious freedoms, and call for our social tolerance and respect for one another as part of these universal human rights, as defined by the nations of the world.
To our brothers and sisters in humanity in Pakistan and around the world, we offer our outstretched hands, not an upraised fist – responsible for equality and liberty.