In a growing pattern of extremist activity in Pakistan, Pakistan Christian minorities were once again the targets of terrorist violence in Balochistan's Quetta and a fire in Punjab's Lahore on Sunday, April 15, 2018.
In Quetta, a terrorist attack on Pakistan Christian minorities targeted individuals leaving Christian church services in the Quetta neighborhood of Essa Nagri area. The terrorists used motorbikes to drive up and gun down Christians after church services. DIG Quetta Abdur Razzaq Cheema reported that the terrorists managed to flee the scene after the attack.  Two Christian minorities, Rashid Khalid and Azhar Iqbal, have reported killed as a result of the terror attack, and at least five are reported injured. Police officer Javed Ahmed told the Associated Press that a young girl was among the wounded and that two others were in critical condition at a hospital.
The SITE Intel Group reports that the ISIS Khorasan Province (ISIS-KP) branch of the ISIS terrorist movement claimed responsibility the April 15, 2018 terror attack on Christian minorities in Quetta.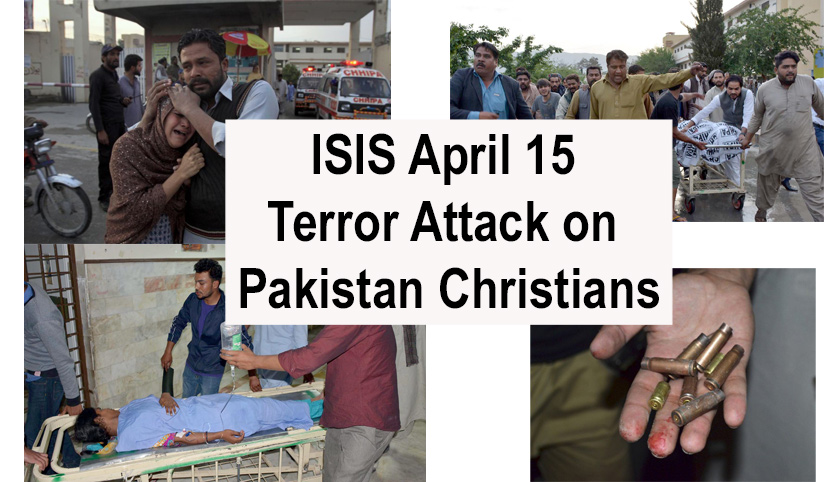 The Quetta area is known to have a significant concentration of the Pakistan Christian minorities, and has been a target of terror attacks in the past, including repeated terror attacks by the ISIS terrorist movement on Pakistan Christian minorities, most recently on April 2, 2018 (the day after Easter) and on December 17, 2017 (the Sunday before Christmas).  As the Pakistan Dawn media reports, the continuing practice of terror attacks on Christian minorities is growing in Pakistan.
On the day after Easter, on Monday April 2, 2018, ISIS terrorists targeted Pakistan Christian minorities in Quetta killing four Christians in a rickshaw in a similar motorbike terror attack; the April 2 terror attack resulted in the murder of a total of seven individuals, including shooting of a 12 year old girl.
Quetta's Christian minorities were also the target of an ISIS terrorist attack in December 17, 2017 with 9 murdered and 30 injured by a  terrorist bomb attack on the  Bethel Memorial Methodist Church on Quetta's Zarghoon Road.
————
In the Shahdara area of Lahore, R.E.A.L. has also received multiple reports of a fire at a Christian minority church under contruction in an area to be developed for the Gospel Jesus Mission Ministry. Reports state that a tent was torched. The incident remains under investigation, but reportedly no First Incident Report has yet been registered by the Punjab Police.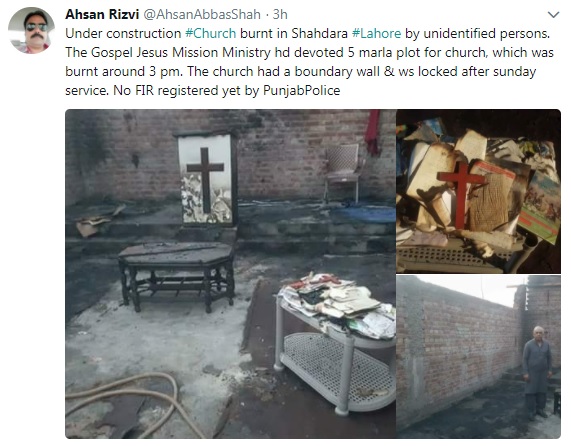 In addition, Lahore has been the scene of a growing extremist movement by the Tehreek-i-Labaik Ya Rasool Allah (TLYRA) and its Tehreek-i-Labbaik Pakistan (TLP) supporters.  As R.E.A.L. reported in November 2017, these extremist movements sought to disrupt public activities in Lahore, Quetta, Islamabad and throughout Pakistan, including violent attacks on the police, and ultimately a SURRENDER by the Pakistan authorities.
Once again, in the past week the Tehreek-i-Labaik  are again seeking disruption in Lahore and seeking to spread extremist rallies into Islamabad.
————
Responsible for Equality And Liberty (R.E.A.L.) extends its condolences and prayers for the victims and loved ones of yet another horrific act of terrorism. Terrorism is an attack on the shared Universal Human Rights of all of our fellow human beings, and is assault on the Universal Human Rights of all people. We must all reject terrorism and the extremist ideolodgies and promoting such terror anywhere in the world.