On November 27, 2017, the Pakistan Government surrendered to the demands of the Tehreek-i-Labaik Ya Rasool Allah (TLY)* religious political party and its supporters that had been allowed to paralyze streets in the Pakistan national capital of Islamabad and across the country. Violent protests led to the death of at least one police officer, 60 police injured, 45 Frontier Constabulary (FC) injured, 8 protesters killed, and 300 protesters injured. Four police vehicles were attacked, and at least one set on fire, and protesters created fires in the streets to create chaoas. Armed protesters beat Pakistan police with rocks, tear gas, slingshots, and metal rods hidden inside bamboo canes. Protesters damaged buses, cut down trees to block roads, and also attacked news media vehicles and set a Samaa television broadcasting van on fire. Pakistan police attempted to arrest and detain some of the protesters, reportedly detaining 150 protesters according to Dawn News. Attempts by police to stop protesters in disrupting law and order, by using tear gas, failed to do "unfavorable winds."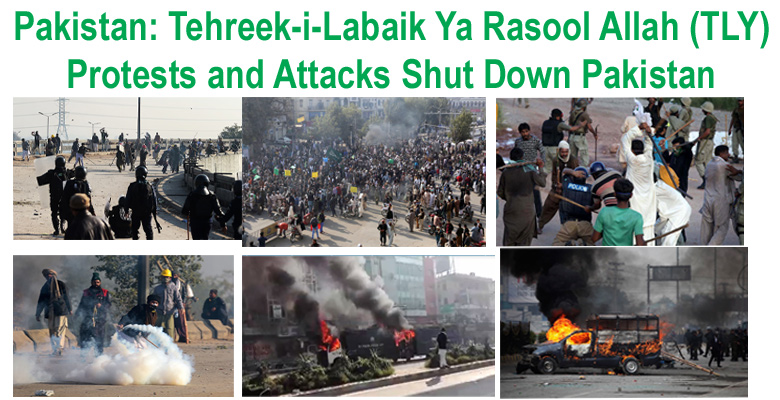 On November 25 and 26, 2017, the TLY was joined by supporters of two other religious political parties: Tehreek-e-Khatm-e-Nabuwwat, and the Sunni Tehreek Pakistan. The protests, which started for three weeks in Islambad and Faizabad Inter-Change, spread to: Quetta, Karachi, Hyderbath/Singh, Sukkur, Umerkot, Mithi, Sujawal, Lahore/Punjab, Faisalbad, Gujranwala, Multan, Nakana Sahib, Mianwali, Gujrat, Sahiwal, Vehari, Toba Tek Singh, Murree, Peshawar, Khyber Pakhtunkhwa, Haripur, Mansehra, Dera Ismail Khan, Multan, Natha Khan Chowk, Sialkot, Sheikhupura. The protest crowd in the Pakistan capital Islamabad area alone grew (according to reports) from 1,000 to over 5,000.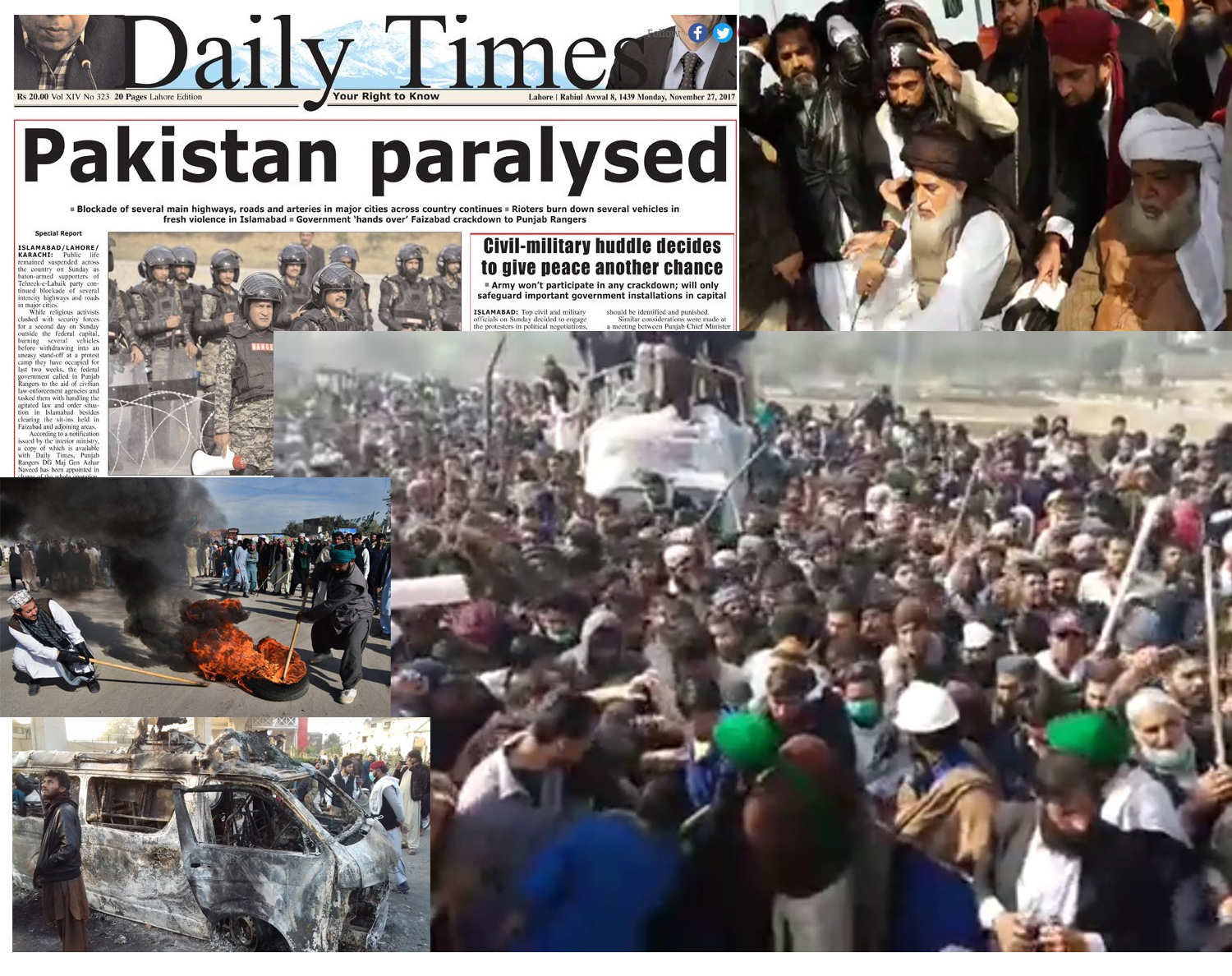 The protests were organized by TLY leader Khadim Hussain Rizvi, who used social media to help reach across Pakistan to spark religious protests.
Efforts by the Pakistan government to shut down social media outlets were stymied by use of VPN technology around Internet sites, and effort by the Pakistan government to temporarily shut down news media only led to public fear and anxiety.
Despite efforts by the Pakistan Police, the ability to maintain law and order during the protest was lost, and the Pakistan Army was called in to protect Islamabad to "secure main offices of the judiciary, Parliament House, Presidency and Prime Minister Houses, foreign missions, foreign office and other important installations," according to Dawn News. However, the Pakistan Army made it clear that it did not consider its mission to address the ongoing national security issue created by the extremist protests.  As the Pakistan Daily Times reports, "it was clear that the Army was not willing to face the protestors."   The level of public disruption that was allowed by the failure and/or fear of government leaders to challenge such protesters seeking to disrupt law and order in Pakistan, should not only trouble the Pakistani public, but also trouble allies to the Pakistan nuclear armed nation.
The TLY and its partner religious political group's protests claimed that the Electoral Reform Bill of 2017 was offensive to their political view of Islam. The Pakistan Electoral Reform Bill of 2017 was intended to integrate 8 existing laws and streamline processes, but the TLY and religious parties felt that it did not have sufficient wording about potential political candidates' "Oath committing to Prophethood of Muhammad." The Federal Law Minister Zahid Ahmid stated that this oath was included, as part of the Pakistan government electoral basis to require political candidates to consent to the "finality of Prophethood" of Muhammad (Khatam an-Nabiyyin). But the explanations were not satisifactory to the TLY extremists, who argued that one word in the bill was reading "declaration" instead of "oath." TLY extremists not only sought the resignation of Federal Law Minister Zahid Hamid, but also hundreds of TLY protesters in Islamabad were accusing Zahid Hamid of "blasphemy."
TLY extremists also alleged that Pakistan government officials were being weak on enforcing the Pakistan "Blasphemy Law" (Section 295 C of the Pakistan Penal Code), which is frequently used to persecute religious minorities, and protested with banners calling to "Hang Aasia" (sic). Christian minority woman Asia Bibi was falsely convicted of blasphemy in November 2010, sentenced to death, and who continues to seek appeal of this death sentence. TLY extremists also protested that Pakistan government officials were too weak on Ahmadi minority Muslims, who they believe should face further persecution.
Such calls by TLY protesters to call for persecution of religious minorities, and in particular, those reports that the Pakistan government has agreed to such TLY demands, should be questioned by the United Nation, and in particular, the UN High Commissioner for Refugees (UNHCR).  Five years ago in 2012, the UNHCR issued a series of guidelines regarding persecution of religious minorities: "UNHCR Eligibility Guidelines for Assessing the International Protection Needs of Members of Religious Minorities from Pakistan, 14 May 2012, HCR/EG/PAK/12/02."  These UNHCR guidelines outline the status of Pakistan's institutional persecution of religious minorities, including Pakistan Christians, Hindus, Sikhs, Ahmadi Muslims, Shiites, Sufis, Baha'is, which are targeted for persecution in Pakistan.  These guidelines also address Pakistan's use of the Pakistan Blasphemy Law to persecute and oppress individuals and religious minorities.  Refugees who have fled from Pakistan should update the UNHCR on these new developments within the Pakistan government, due to the blatant surrender of authorities to TLY religious extremist political pressure.
With the Pakistan government administration and police officials unable to develop a strategy to control the security sitution, the Pakistan government used the Pakistan Army as an intermediary to negotiate with the extremist protesters. On November 27, 2017, after negotiations between the TLY and the Pakistan government (including the Pakistan Army), TLY leader Khadim Hussain Rizvi held a press conference to call an end to the protests. According to TLY's Khadim Hussain Rizvi, the Pakistan Government agreed to a series of 6 demands, including releasing those detained during the protests. Rizvi also stated that the Pakistan Army chief Qamar Javed Bajwa and Major Gen Faiz Hameed would be "guarantors for the agreement" of the TLY's demands. Among those were the immediate resignation of Pakistan Federal Law Minister Zahid Hamid, who resigned in accordance with the TLY's demands. Other TLY demands called for the Pakistan government compensating protesters for any loss of assets.
On the morning of November 27, 2017, the Pakistan Daily Times (PDT) issued an editorial calling for the Pakistan government to remain strong in the face of the TLY protester threats.  The PDT wrote that surrendering to such demands would "mean that government officials can be forced into resignation by any group of armed thugs that can use force and attack ministers' houses to push for its unconstitutional and illegal demands. It should be stated by the government in clear terms that no minister would resign on demands of such hooligans."  But on the same day, the Pakistan government did surrender to the TLY protester demands, and Federal Law Minister Zahid Hamid was forced to resign.
On social media, Pakistanis posted a video of a Pakistan military figure passing out envelopes to (what appears to be) protesters. According to Dawn News, "Punjab Rangers DG Maj Gen Azhar Naveed oversaw the release of protesters and handed over cheques worth Rs1,000 to each released protester as fare for their travel home." The Islamabad High Court criticized the Pakistan government's role to use the Pakistan military to arbitrate with the TLY extremist protesters, with Justice Shaukat Aziz Siddiqui asking "Who is the Army to adopt a mediator's role?" and "Where does the law assign this role to a major general?"
Other TLY demands, which they tell Dawn News that the Pakistan government has agreed to, address aggressive enforcement of the Blasphemy law used to persecute Pakistan Christians and other religious minorities, and investigation into government officials concerned about Ahmadi minority Muslims. Other TLY demands that they claim were accepted by the Pakistan government calls for seeking the U.S. to release a Pakistan woman, Aafia Siddiqui, convicted in the U.S. for shooting Americans, who was linked with "mass casualty" terror plots.
The six (6) demands of the TLY agreed to by the Pakistan government have been widely distributed in a document, signed by Pakistan Interior Minister Ahsan Iqbal, TLY leader Khadim Hussain Rizvi, Interior Secretary Arshad Mirza, two other protest leaders, and Major General Faiz Hameed, who facilitated the agreement. The six demands of the TLY agreed to by the Pakistan government, in a document with these signatures, are listed as:
"1. Remove Federal Law Minister Zahid Hamid from his position immediately. Tehreek-i-Labaik will issue no fatwa [religious decree] of any kind against him."
2. The report prepared by Raja Zafarul Haq-led committee will be made public within 30 days and whoever is named in the report for being responsible for the change in the election oath will be acted against under the law.
3. All protesters arrested between November 6 until the end of the sit-in from across the country will be released within one to three days according to legal requirements. The cases registered against them and the house arrests imposed on them will be ended.
4. An inquiry board will be established to probe and decide what action to take against the government and administration officials over the operation conducted by security forces against protesters on Saturday, November 25. The inquiry should be completed within 30 days and action will be taken against those found responsible.
5. The federal and provincial governments will determine and compensate for the loss of government and private assets incurred from November 6 until the end of the sit-in.
6. The points already agreed to concerning the Government of Punjab will be fully implemented."
In addition, Dawn News reports on nine (9) additional TLY demands allegedly agreed to by the Pakistan government, including increased use of the "Blasphemy Law" to oppress individuals and persecute religious minorities (including Pakistan Christian minorities), calls for investigation into government leaders to urge further persecution of Ahmadi Muslim minorities, and calls for the release of a Pakistan woman, Dr. Aafia Siddiqui, convicted of shooting Americans, who has been linked to terrorist plans to attack the United States.
These additional TLY demands, which TLY leader Khadim Hussain Rizvi states the Pakistan government has agreed to include the following, as reported both by Dawn News and the Pakistan Daily Times:
"1. A board of clerics led by Pir Muhammad Afzal Qadri will be set up to probe remarks made by Punjab Law Minister Rana Sanaullah against the persecution of Ahmedis. Sanaullah will have to accept the decision made by the board.
2. No difficulty will be faced in registering cases under clause 295-C of the Pakistan Penal Code (blasphemy law)
3. No leniency will be given to those convicted by courts for blasphemy
4. No ban will be imposed on the use of loudspeakers
5. The foreign and interior ministries will take steps for the release of Dr Aafia Siddiqui after taking her mother and sister in confidence
6. The holiday of Iqbal Day on November 9 will be revived
7. Two representatives of Tehreek-i-Labaik will be included in the panel assigned to decide changes in the textbook board. The officials will push for inclusion of translation of the Holy Quran and chapters about Seerat-un-Nabi (PBUH) and Muslim leaders.
8. The chehlum of martyrs will be held on January 4 at Rawalpindi's Liaquat Bagh
9. Every year, November 25 will be observed as 'Martyrs of Prophet's honour day' "
The increased calls for persecution of individuals under the Pakistan "Blasphemy Law," should be concerning to those advocating for Human Rights and religious freedom of all people.  It should be deeply concerning to Human Rights advocates that the TLY has obtained such support after its public calls for executing individuals and its reports to the Pakistan Daily Times and Pakistan Dawn, that the TLY has received agreement by the Pakistan government that blasphemy laws will be more aggressively pursued against vulnerable individuals.
The Blasphemy Law is regularly used to persecute religious minorities and other victimized by claims that they did or said something "blasphemous" against Islam. This law calls for the death penalty for individuals convicted on such laws, usually based on trumped-up or fabricated evidence. Some suffer for years in prison on such charges, seeking appeals, and even those who are released when found innocent face mob violence, including previous reports of those shot on courthouse steps. Media reports showed the current protesters with banners calling for the hanging of Christian minority woman Asia Bibi, who was convicted of blasphemy in November 2010, sentenced to death, and who continues to seek appeal of this death sentence. Christian minority woman Asia Bibi's primary "offense" was sharing a water cup while working with extremist Muslim co-workers, who felt that her unclean touch of the water cup was offensive. This led to a dispute and fabricated charges against her in June 2009. She was imprisoned for over a year before being formally charged.  TLY protesters have been openly protesting in support of Asia Bibi's death.
The American public should also be concerned about the calls by TLY leader Khadim Hussain Rizvi, which he claims to Dawn News, are supported by the Pakistan government, seeking the release of Dr. Aafia Siddiqui, who was convicted by U.S. courts after shooting Americans and attempting to murder them.  Al-Qaeda-linked Aafia Siddiqui was one of several high-profile terror suspects sought by the FBI in the United States, where she had been operating, prior to her capture in Afghanistan.  Afia Siddiqui was a graduate of the Massachusetts Institute of Technology (MIT), and obtained a Ph.D. doctoral degree from Brandeis University, where she taught a Biology Laboratory course. Media reports stated that Khalid Sheikh Muhammad, the alleged al-Qaeda chief planner of the 11 September attacks, named Afia Siddiqui as an Al-Qaeda operative. Khalid Sheikh Muhammad was related to Afia Siddiqui, as her second husband's uncle.  According to the U.S. Government, Aafia Siddiqui had a role in assisting terrorists to "rent houses and provide administrative support for the operation," including organizing travel documentation for Pakistani national Majid Khan in Baltimore, Maryland, whose role was to bomb gasoline stations and poison water reservoirs in America.  In U.S. courts, Aafia Siddiqui was convicted of attempted murder of U.S. nationals, officers, and employees, assault with a deadly weapon, carrying and using a firearm, and three counts of assault on U.S. officers and employees.  According to the complaint against Pakistan woman Aafia Siddiqui, she was arrested with notes on plans for terrorist attacks on "various locations in the United States, including Plum Island, the Empire State Building, the Statue of Liberty, Wall Street, and the Brooklyn Bridge," as well as plans on "construction of 'dirty bombs,' chemical and biological weapons, and other explosives."  She was also arrested with two pounds (900 grams) of sodium cyanide in a glass jar.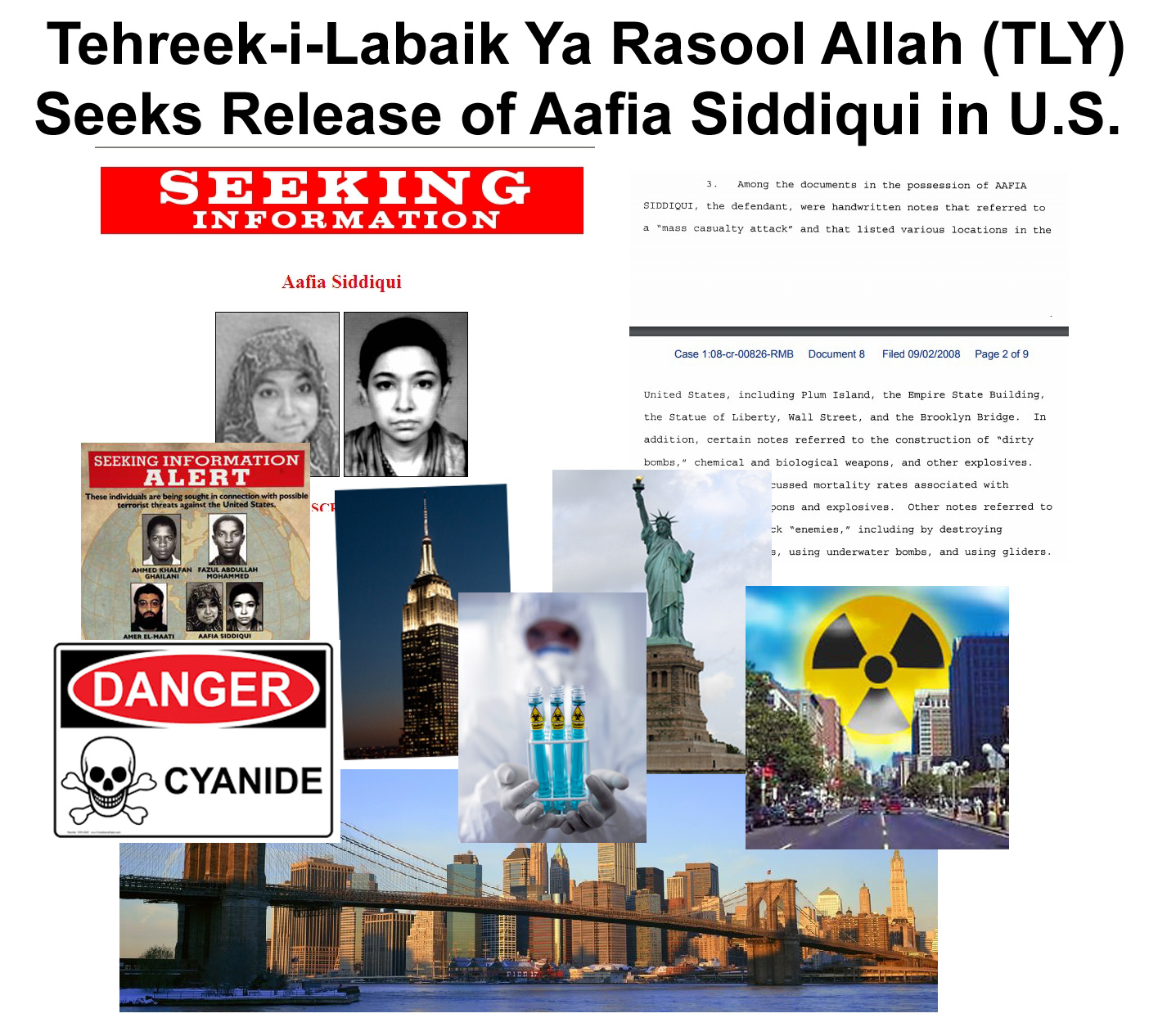 Responsible for Equality And Liberty (R.E.A.L.) has previously reported on UK-based groups that have praised terrorists, including the 9/11 Al-Qaeda terror attack on the U.S., which have campaigned for the freedom of convicted terrorists. According to the London Times, this included a "women's network [that] is using macabre images on social media to raise funds for convicted terrorists and their families," including Pakistan Dr. Aafia Siddiqui.
Pakistan media figures have considered the Pakistan government's inability to manage law and order in the face of the TLY religious political protests across the nation.  During the protests, Dawn's Zahid Hussain wrote: "The use of religion as a policy tool by the state and its confluence with politics has divided the nation along sectarian lines and fueled bigotry. The ongoing siege of the capital presents a serious challenge to not only the government but also the state" and "The authorities have not learnt from the consequences of the policy of appeasement."
Pakistan Express Tribune's Kamran Yousaf warns of religious extremism in Pakistan as a form of "Frankenstein's monster," writing "Our state and its inaction allowed ordinary individuals and groups to become monsters." Mr. Yousaf states that despite security improvements in the military,"the battle against extremism has unfortunately not even been kicked off.  We have not only failed to stem the tide of extremism but in reality whatever little gains we may have achieved are now being reversed."  "The tragic part is that we haven't learnt any lesson from the past and as a consequence has allowed yet another individual to become larger than life character. Who is Khadim Hussain Rizvi and how has he risen to prominence within no time? Not long ago, he was just an ordinary cleric teaching at one of the seminaries in Lahore." "The problem is that the path he has chosen to venture into politics is dangerous. He is openly inciting people to violence and ridiculing judiciary and other institutions. " "This leaves us with a legitimate concern: are we paving the way for yet another monster?"
Pakistan Daily Times (PDT) writer Obed Pasha wrote on November 27 that TLY protesters led by Khadim Hussain Rizvi were not defied due to "widespread tacit support they have from a substantial portion of the society" in Pakistan, who "sympathize with Khadim Hussain's cause." PDT writer Pasha stated that the "fact of the matter is that the masses have chosen religious bigotry to unite for collective action," and that a series of successful political religious extremists have "not only weakened the state machinery, but also legitimized the use of religion to achieve political goals in the society."
Responsible for Equality And Liberty (R.E.A.L.) suggests to the Pakistan government, the frustrated among the Pakistan public, and those who believe in equality, liberty, and democratic processes another direction: Choose Universal Human Rights.
The path of religious extremism is only one path that Pakistan could choose.  Other alternatives could be to reconsider the position of Pakistan in making its rights and legal systems dependent on pluralistic values that show true respect and confidence in freedom of religion and faith, rather than an insecurity that demands religious extremist control all political and legal futures in Pakistan.   A faith and culture that is strong should also be strong enough to respect others and understand others without the fear-based extremism that demand total and unquestioning obediance to extremist views, and which will use violence and disruption if its adherants do not get their way.  Surely such appeasement of extremism undermines the foundational capabilities for democracy and democratic principles.
Pakistan is a signatory to the Universal Declaration of Human Rights (UDHR) (signatory as part of December 10, 1948 United Nations process), as well as the International Covenant on Civil and Political Rights (ICCPR) (signed 2008, ratified 2010). The ICCPR is the legal treaty to the UDHR. Within the UDHR, Article 18 states: "Everyone has the right to freedom of thought, conscience and religion; this right includes freedom to change his religion or belief, and freedom, either alone or in community with others and in public or private, to manifest his religion or belief in teaching, practice, worship and observance." This is part of the ICCPR as well, as part of its own Article 18, which states "1. Everyone shall have the right to freedom of thought, conscience and religion. This right shall include freedom to have or to adopt a religion or belief of his choice, and freedom, either individually or in community with others and in public or private, to manifest his religion or belief in worship, observance, practice and teaching. 2. No one shall be subject to coercion which would impair his freedom to have or to adopt a religion or belief of his choice. 3. Freedom to manifest one's religion or beliefs may be subject only to such limitations as are prescribed by law and are necessary to protect public safety, order, health, or morals or the fundamental rights and freedoms of others. 4. The States Parties to the present Covenant undertake to have respect for the liberty of parents and, when applicable, legal guardians to ensure the religious and moral education of their children in conformity with their own convictions."
When ratifying the ICCPR, Pakistan stated that "The Government of the Islamic Republic of Pakistan reserves its right to attach appropriate reservations, make declarations and state its understanding in respect of various provisions of the Covenant at the time of ratification." Pakistan's reservations to such universal human rights under the UDHR and ICCPR have included the following reservation (June 27, 2011) regarding Article 18: "shall be so applied to the extent that they are not repugnant to the Provisions of the Constitution of Pakistan and the Sharia laws."
Pakistan is also a member of the Organization of the Islamic Conference (OIC) which created its own version of a human rights declaration, titled the "Cairo Declaration on Human Rights in Islam (CDHRI)" adopted on August 5, 1990. Unlike the other universal human rights documents, the OIC's version of "human rights" denies religious freedom, making human rights dependent on the interpretation of Islamic Sharia law by individual OIC's states' members. As stated in CDHRI Article 24, "All the rights and freedoms stipulated in this Declaration are subject to the Islamic Shari'ah." As stated in CDHRI Article 25, "The Islamic Shari'ah is the only source of reference for the explanation or clarification of any of the articles of this Declaration."  But even within Shari'ah there are interpretations by scholars.  Why cannot confidence, rather than fear be an interpretation?  Why cannot respect for others, rather than "compulsion" in religion not be an interpretation?
If Pakistan's majority faith and religious culture is secure, then it should not need such artificial demonstrations of piety and rejection of pluralism to defend it.  It is time for Pakistan to recognize the foundational problems that it faces in its version of democracy and human rights, and understand that democratic values and human rights must be universal, to be responsible for the future of the diverse people and needs in Pakistan, and to be responsible in Pakistan's future with the world.
Courage and confidence in equality, not surrender and fear of extremists, offers a real pathway for peace and prosperity for Pakistan's future.  No nation can build a proud nation for its children, if on any day, a handful of extremists can readily drag it to its knees.  We urge the people and government of Pakistan to stand up and reject the attacks on democracy and representative government by such extremists.
We urge Pakistan and its people to be Responsible for Equality And Liberty.
(* NOTE: The TLY is also referred to in English media as Tehreek-e-Labaik Pakistan, Tehreek Labbaik Ya Rasool Allah, Tehreek-e-Labaik Ya Rasool Ullah, "TLYP," "TLYR".)