In Pakistan, extremist religious supporters of three religious political parties: Tehreek-e-Labaik Pakistan, Tehreek-e-Khatm-e-Nabuwwat, and the Sunni Tehreek Pakistan, have been engaged in protests and violence starting in Pakistan's capital Islamabad and spreading to other parts of the country. One of the groups, Tehreek-e-Labaik Pakistan (aka "TLY," Tehreek Labbaik Ya Rasool Allah, Tehreek-e-Labaik Ya Rasool Ullah, "TLYP," "TLYR"), has been led by firebrand cleric Khadim Hussain Rizvi, who continues to led protest activities and rally individuals armed with sticks and rods in the Islamabad capital. TLY group chief Khadim Hussain Rizvi has used social media to call for the protests and actions by supporters across Pakistan. The protests in Pakistan's capital, Islamabad, and have blocked the blocking Faizabad Inter-Change for approximately three weeks. TLY protests have spread to other parts of the nation, and violence between protesters and the Pakistan police has increased, including protesters attacking police with iron and wooden rods, stones, setting police vehicles on fire, and starting fires in the streets. The protests and violence have spread to other parts of the country, and reports are being issued from Pakistan media of plans to restrict media reporting on the disruption.
The violent protests have attacked reported changes in electoral reform law, but also called for threats against religious minorities, including execution of Christian minority woman Asia Bibi for "blasphemy," and anti-Ahamdi Muslim minority placards. Fires, attacks on police vehicles, injuries, and death have been reported as a result of the increasingly violent protests, which have led to the death of at least one police officer killed, over 60 police injured, 45 Frontier Constabulary  (FC) injured, 8-10 protesters killed,  and 300 protesters injured.
The recent protests and violence which began in Pakistan's national capital of Islamabad, have continued to spread. The current protests and disruption has led to over 5,000 protesters seeking to disrupt Islambad and other parts of Pakistan, including: Faizabad, Karachi, Hyderabad/Sindh, Lahore/Punjab, Peshawar, Quetta. Multiple reports are also stating that a call has been made by the Pakistan Federal Government to authorize the use of the Pakistan Army "to control law and order situation in Islamabad Capital Territory."  Reports stated that Pakistan military authorities were used to help contain protest violence.  According to Dawn, "The federal government on Saturday evening ordered the deployment of the army in Islamabad under Article 245 of the Constitution to aid civilian law-enforcement agencies in securing the capital, following the 'suspension' of the day-long crackdown against religious protesters camped out at Faizabad Interchange."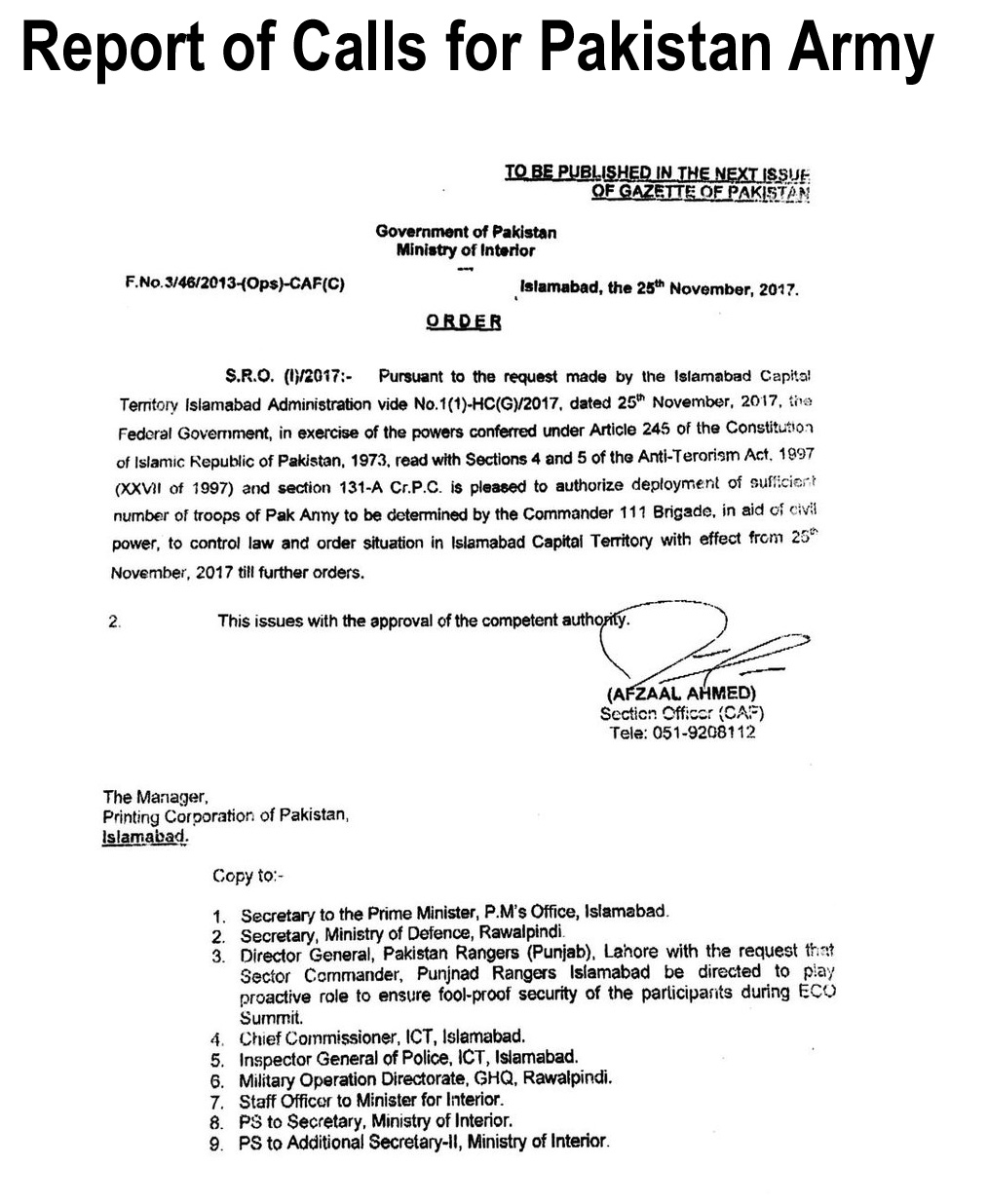 According to the New York Times, Dawn, and other reports, electronic media and television media have been restricted from reporting on the violent protests.  The Pakistan Electronic Media Regulatory Authority (PEMRA) blocked live television coverage of protests. The New York Times reports: "At one point, the electronic media regulating authority took all television news networks off the air in most parts of the country, and Facebook, Twitter and YouTube were also inaccessible, amid concerns that live coverage of the police action was inflaming religious sentiments."
The TLY extremist and protester groups are telling their leaders to "use VPN" as ways to work around the PERMA blocks on social media.
Numerous reports of violence and disruption were reported across the Pakistan.
In Islamabad, protesters continued to occupy the Faizabad Bridge which connects Rawalpindi and Islamabad through the Islamabad Expressway and Murree Road, with a reported growth in the number of protesters from 1,000 to 5,000.   Additional protesters joined the Islamabad protest mob using Murree Road, Rawal Dam and Express Highway.  Reports continue to state that TLY leader Khadim Hussain Rizvi is leading protesters armed with rods and sticks. Protesters have used rocks and rods on the police, as well as tear gas shells.  Some are concealing their identity with masks. Police vehicles and police vans have been attacked and set on fire.  Protesters have cut down trees to block highways, and have burned tires in the streets, as well as attacked police, attacked FC personnel, and set police vehicles on fire.  The latest reports state that Islamabad's Red Zone and Diplomatic Enclave were sealed off with containers to prevent protesters from entering the area.
In Quetta, protestors sought to disrupt and cause traffic jams in Hockey Chowk, and protesters sought to demonstrate against the security and law enforcement agencies seeking to restore order.
In Karachi, at least 23 were injured included 2 policemen, some with gunshot wounds. Pakistan Dawn quoted police officer Malir SSP Rao Anwar Ahmed stating: "One of the men among the protesters was armed with SMG rifle, who resorted to firing on the policemen, resultantly Memon Goth SHO Gulzar Tunio and constable Sabir sustained bullet wounds." Throughout Karachi, there were reports of protesters creating fires and burning tires. Protests in Numaish Chowrangi created disruptions of traffic in the area for hours. Major affected areas were reported to include Teen Talwar, Boat Basin, Nipa, Sohrab Goth, Shahrah-i-Faisal near Stargate and Nursery, Hub River Road and Hassan Square.
In Hyderbath/Singh area, traffic was blocked by protesters including in the Haider Chowk area, as well as the National Highway near Khairpur.  Protests occurred outside the Badin Press Club and in Sukkur, Umerkot, Mithi, and Sujawal.
In Lahore/Punjab, significant protests in Shahdara, Imamia Colony, and other areas led to closing roads and blocking roads from Lahore to Gujranwala, including Faisalbad. Protests occurred in nine other cities throughout Punjab province ( Gujranwala, Multan, Nakana Sahib, Mianwali, Gujrat, Sahiwal, Vehari, Toba Tek Singh and Murree)  and motorists were stranded due to traffic congestion on the Lahore-Islamabad Motorway. Pakistan Today reported that the police prescence was difficult to discern, in their report: "Lahore police go missing as religious activists lay siege to Faisal Chowk."
In Peshawar, protesters blocked King's Road and created major traffic blockages in the area. They burned tires at a major protest rally causing smoke and fire. Other protests developed in four other areas throughout Peshawar, including Khyber Pakhtunkhwa, Haripur, Mansehra and Dera Ismail Khan.
In Multan, four protest rallies were led by Sunni Jamaat activists.
In Natha Khan Chowk, protesters set a vehicle on fire.
In Sialkot, protesters attacked the home of Law Minister Zahid Hamid with rocks.
In Sheikhupura, PML-N lawmaker Javed Latif was attacked and injured by protesters, when he attempted to negotiate with them. Protesters also attacked the home of PML-N's former interior minister Chaudhry Nisar.
Social media reports have provided additional information that a number of the protesters are actually armed with weapons that are concealed.  One example shown is how metal rods are hidden inside "bamboo poles" and then used as weapons when not seen by photographers.
A primary reason given by TLY group chief Khadim Hussain Rizvi and supporting protesters for such public disruption has been to call for the resignation of Pakistan Law Minister Zahid Hamid, after claims that a Electoral Reform Bill did not include a clause regarding belief in the finality of Prophethood of Muhammad (Khatam an-Nabiyyin) as part of the revised electoral reform act, regarding "Oath committing to Prophethood of Muhammad." However, reports have show the both the proposed and previous verisions of the amended Electoral Reform Bill included this "oath" to consent to the "finality of Prophethood" of Muhammad. Law Minister Zahid Hamid denied the TLY allegations about the removal of this part of the proposed law, stating, "God forbid, we can't even think of doing such a thing." The intent of the Electoral Reform Bill was to combine eight different laws pertaining to elections to avoid legal confusion. One of the "controversial" aspects of the Electoral Reform Bill was a clause to prevent politicians that are disqualified from holding public office to lead political parties.
In addition, protesters have been protesting against religious minorities with particular targets on Pakistan Christian Asia Bibi and against Ahmadi Muslims. Protesters carried banners calling for the execution of Pakistan Christian minority woman Asia Bibi for "blasphemy."
In Lahore, Pakistan Today reported that "Hundreds of protesters, including members of the Lahore Bar Association (LBA), carrying anti-Ahmedi placards and batons thronged the Faisal Chowk to register their protest against the operation in Islamabad." "Protesters were also of the view that Punjab Law Minister Rana Sanaullah and Federal Law Minister Zahid Hamid should resign as the former is 'friends with Ahemdis' while the latter 'is an Ahmedi'."
Religious minorities are regularly persecuted throughout Pakistan, both by extremists and by insitutional prohibitions. This includes legal prohibitions against Ahmadis in their form of Islamic worship, as well as use of "Blasphemy Law" as ways to bully and persecute religious minorities. These forms of persecution have long been recognized by the United Nations as a form of attack on religious minorities' human rights, as documented in UN High Commissioner for Refugees (UNHCR), UNHCR Eligibility Guidelines for Assessing the International Protection Needs of Members of Religious Minorities from Pakistan, 14 May 2012, HCR/EG/PAK/12/02.
Those protesting in defense of the religious "Blasphemy Law," Section 295 C of the Pakistan Penal Code, in Pakistan, which is regularly used to persecute religious minorities and other victimized by claims that they did or said something "blasphemous" against Islam. This law calls for the death penalty for individuals convicted on such laws, usually based on trumped-up or fabricated evidence. Some suffer for years in prison on such charges, seeking appeals, and even those who are released when found innocent face mob violence, including previous reports of those shot on courthouse steps. Media reports showed the current protesters with banners calling for the hanging of Christian minority woman Asia Bibi, who was convicted of blasphemy in November 2010, sentenced to death, and who continues to seek appeal of this death sentence. Christian minority woman Asia Bibi's primary "offense" was sharing a water cup while working with extremist Muslim co-workers, who felt that her unclean touch of the water cup was offensive. This led to a dispute and fabricated charges against her in June 2009. She was imprisoned for over a year before being formally charged.
Responsible for Equality And Liberty (R.E.A.L.), an advocate for universal human rights, urges the Pakistan government to reject policies of appeasement in dealing with extremist protesters throughout Pakistan, but also to re-examine Pakistan's position on human rights in addressing the roots of such extremism.  R.E.A.L. notes the commentary by Zahid Hussain who states: "The use of religion as a policy tool by the state and its confluence with politics has divided the nation along sectarian lines and fueled bigotry. The ongoing siege of the capital presents a serious challenge to not only the government but also the state" and "The authorities have not learnt from the consequences of the policy of appeasement."  While R.E.A.L. agrees with Mr. Hussain on this, the foundational issue comes back to the false idea that Pakistan can have a separate set of universal human rights, a different vision of democracy, and a view of religious tolerance that fundamentally rejects religious diversity and pluralism.  The root of this problem will not go away for Pakistan.
Pakistan is a signatory to the Universal Declaration of Human Rights (UDHR) (signatory as part of December 10, 1948 United Nations process), as well as the International Covenant on Civil and Political Rights (ICCPR) (signed 2008, ratified 2010). The ICCPR is the legal treaty to the UDHR. Within the UDHR, Article 18 states: "Everyone has the right to freedom of thought, conscience and religion; this right includes freedom to change his religion or belief, and freedom, either alone or in community with others and in public or private, to manifest his religion or belief in teaching, practice, worship and observance." This is part of the ICCPR as well, as part of its own Article 18, which states "1. Everyone shall have the right to freedom of thought, conscience and religion. This right shall include freedom to have or to adopt a religion or belief of his choice, and freedom, either individually or in community with others and in public or private, to manifest his religion or belief in worship, observance, practice and teaching. 2. No one shall be subject to coercion which would impair his freedom to have or to adopt a religion or belief of his choice. 3. Freedom to manifest one's religion or beliefs may be subject only to such limitations as are prescribed by law and are necessary to protect public safety, order, health, or morals or the fundamental rights and freedoms of others. 4. The States Parties to the present Covenant undertake to have respect for the liberty of parents and, when applicable, legal guardians to ensure the religious and moral education of their children in conformity with their own convictions."
When ratifying the ICCPR, Pakistan stated that "The Government of the Islamic Republic of Pakistan reserves its right to attach appropriate reservations, make declarations and state its understanding in respect of various provisions of the Covenant at the time of ratification." Pakistan's reservations to such universal human rights under the UDHR and ICCPR have included the following reservation (June 27, 2011) regarding Article 18: "shall be so applied to the extent that they are not repugnant to the Provisions of the Constitution of Pakistan and the Sharia laws."
Pakistan is also a member of the Organization of the Islamic Conference (OIC) which created its own version of a human rights declaration, titled the "Cairo Declaration on Human Rights in Islam (CDHRI)" adopted on August 5, 1990. Unlike the other universal human rights documents, the OIC's version of "human rights" denies religious freedom, making human rights dependent on the interpretation of Islamic Sharia law by individual OIC's states' members. As stated in CDHRI Article 24, "All the rights and freedoms stipulated in this Declaration are subject to the Islamic Shari'ah." As stated in CDHRI Article 25, "The Islamic Shari'ah is the only source of reference for the explanation or clarification of any of the articles of this Declaration."
This creates a fundamental division and conflict between OIC nations respecting the CDHRI, and other nations of the world respecting the UDHR/ICCPR. It creates a continuing flashpoint in dealing with broad human rights issues on an international basis, where the very definition of "universal human rights" has a different interpretation in Pakistan and other OIC nations. The concept of those seeking to run for political office in other nations around the world, having to make a commitment or an oath to a specific religious viewpoint, would appear fundamentally un-democratic and an institutional attack of democratic processes. But throughout Pakistan today, TLY protesters are violently protesting and burning police vehicles based on a rumor that such non-religious democratic electoral reform could even have been considered. Furthermore, some TLY protesters are also using this unrest to further defend the abuses by the Pakistan "Blasphemy Law," which is regularly used to persecute religious minorities and others.
We urge that the Pakistan police will get this unrest and violence under control, but this is yet another example of the dangerous lack of stability that Pakistan must resolve in basic agreement on human rights and democratic processes along with the rest of the world.  Long term solutions are not just police action, not simply Army action, and not further efforts to appease violent extremists.  The only long term solution for Pakistan to meaningfully address such violence is to build a pluralistic respect for universal human rights for all people of all faiths, without dependence on religious sanctions to operate basic national law and regulations on a daily basis.  As with all nations, the values, ethics, and mores (including religious mores) of its people are powerful influences on law and legislation.  But for adherents to the majority religion, the demonstration of real piety and religious conscience would be provide laws that allow for respect to all Pakistan citizens of all faiths and views, without the  insecure need for "compulsion" in religion.
As a nuclear weapon-armed modern nation (with an estimated 120 nuclear bomb warheads), Pakistan and the Pakistan people must consider both its national and its global responsibilities. Like the rest of the world, the Pakistan people have suffered from violence and terrorism. It remains essential for Pakistan and the world to continue to challenge terrorism. But terror tactics draw their inspiration from extremist views and values, and too many extremists continue to wield influence in Pakistan today, as we can clearly see in the streets of Pakistan, as the Pakistan police themselves lie injured and killed in the streets today.
Pakistan must come to realize that modern technology, modern weapons, and engagement with the rest of the world is a two-way street. Pakistan cannot simply take what it wants from our global modern age, and live as if the rest of the modern world does not exist, including our shared universal human rights. Growing technological and business interdependence with simultaneous denial on global standards of human rights is a strategy for Pakistan's national disruption, security challenges, and both internal and external strife. Like all nations, Pakistan has the right to defend its culture, its majority religion, and its values. But the dependence on a completely separate set of "universal human rights" that reject the religious freedom and diversity of others will continue to be a weakness in the Pakistan national identity. Pakistan's position in dealing with the TLY and the violent protesters is to tactically stop street violence, but to ignore the foundational problems that lead to such issues.
Pakistan must reassess its reservations to the Universal Declaration of Human Rights (UDHR) and the International Covenant on Civil and Political Rights (ICCPR), and reconsider its dependence on a Cairo Declaration on Human Rights in Islam (CDHRI), which demands a religious-based "universal human rights" code. If Pakistan's majority faith and religious culture is secure, then it should not need such artificial demonstrations of piety and rejection of pluralism to defend it.
The time must come, to stop the violence in Pakistan, and take a real stand against extremism movements in Pakistan, by fully and completely supporting all of the Universal Declaration of Human Rights, including Article 18.  Pakistan could be begin this process by fully ratifying the Universal Declaration of Human Rights, rather than merely being a signatory to it.  R.E.A.L. urges the government of Pakistan to reconsider its dependence on the CDHRI, and to fully ratify the Universal Declaration of Human Rights and to remove its "reservations" to the International Covenant on Civil and Political Rights.  With the Human Rights Day approaching on December 10, this could be a move for Pakistan to begin to bring its stance on universal human rights in line with the rest of the world.