Responsible for Equality And Liberty (R.E.A.L.) calls for responsible and ethical citizens in the nation of North Korea to stop efforts by its leadership to continue to promote global violence. We have seen many threats by North Korea to attack other countries around the world in recent weeks and months, most notably a North Korean missile that flew over the island of Hokkaido of Japan on August 28, 2017, and repeated threats to launch missiles against the United States of America (USA) in Guam and the USA mainland. R.E.A.L. urges the North Korean people that the path to progress is through peace and respect for our shared human rights.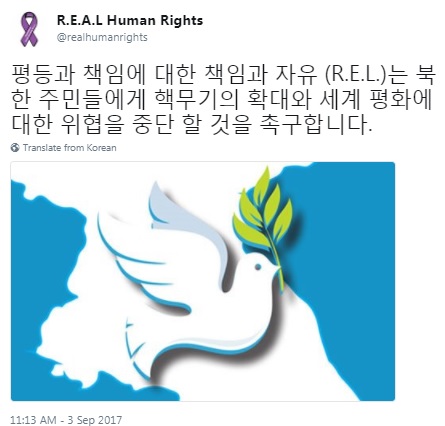 Japanese media Asahi Shimbun reported on September 11, 2017 that its sources in North Korea indicate that the Communist nation is threatening cyberattacks on South Korea, Japan, and the USA.
But most notable is a new New Yorker report, for its September 18, 2017 issue, entitled "The Risk of Nuclear War with North Korea," by political journalist Evan Osnos, recounting his discussions and experience during a recent visit within North Korea. Within this long and nuanced article, Mr. Osnos has discussions where representatives of the North Korea government and military seek nothing less than the destruction of the USA, as one of their main goals in pursuing missiles and nuclear bombs, which can threaten the world.  To those who simply read the introduction of this 42 page report, this would not be clear.  The introduction provides the standard U.S. political media narrative, how the Communist North Korea's decades of threats are primarily aggravated by the current U.S. administration, etc.
Yet much further into the report (pages 22-23), we see a totally different and essentially important fact: North Korea government and military representatives believe that a full-scale nuclear war is not only survivable, but may be acceptable if it results in the destruction of the USA.
Pak Song Il, of the North Korea Government's Foreign Ministry's Institute for American Studies, was the guide for U.S. political journalist Evan Osnos. In a moment of brutal candor, Pak Song Il told Evan Osnos that a full scale nuclear war with the USA was survivable, and the North Korea military would consider such a war acceptable to achieve the "destruction of the United States."
North Korea Government's Pak Song Il repeatedly states that such full scale nuclear destruction of the USA would be a North Korea objective. At one point in the article, Pak Song Il explains that such total destruction is the only point of such nuclear war.
On pages 22 and 23 of the article, Evan Osnos writes that Americans assume "[i]n the event of a nuclear war, American strategists assume that North Korea would first launch a nuclear or chemical weapon at an American military base in Japan or Guam, in the belief that the U.S. would then hold its fire, rather than risk a strike on its mainland." Evan Osnos continues: " I mentioned that to Pak, but he countered with a different view. 'The point of nuclear war is to give total destruction to another party,' he said. 'There are no moves, no maneuvers. That's a conventional war.'"
Evan Osnos continues this line of question: "[a]t lunch, I asked Pak, 'If your country would be destroyed in a nuclear exchange, why are you really entertaining the idea?' North Korea, he said, is no stranger to devastation: 'We've been through it twice before. The Korean War and the Arduous March'—the official euphemism for the famine of the mid-nineties. 'We can do it a third time.' "
Evan Osnos tries to understand, but the point is his world-view does not allow him to understand that there are those in North Korea that would consider nuclear war, including on North Korea as acceptable to "destroy" the United States. Evan Osnos writes: "But, to state the obvious, I said, risking a premature end to a friendly meal, a nuclear exchange would not be comparable. 'A few thousand would survive,' Pak said. 'And the military would say, 'Who cares? As long as the United States is destroyed, then we are all starting from the same line again.' ' He added, 'A lot of people would die. But not everyone would die.'"
R.E.A.L. urges world and American security advisors concerned about global human rights and security to ask serious questions about this increasingly aggressive and violent position from Communist North Korea. There is a urgent need to recognize that such aggression can quickly be turned on other people around the world, and it must be discouraged by those responsible activists and leaders in human rights.
R.E.A.L. calls upon the people in North Korea to reject the direction of their leaders in seeking to make war and violence against the world, and to sacrifice the lives of North Korea people as acceptable. Such calls for violence and threats are an attack on our shared human rights, and the North Korea public, who have long suffered under terrible conditions deserve the same basic human rights as the rest of the world's public, under our shared universal human rights. Our human rights of security are not the right to threaten to attack and destroy people and nations around the world. R.E.A.L. urges the North Korea public to call for an end to these threats and calls for violence.
Choose Love, Not Hate. Love Wins.