The U.S. Department of Justice announced on March 3, 2017 that it had arrested Juan Thompson, from St. Louis, Missouri, for bomb threats against Jewish Community Center (JCC) offices across the country, against the Anti-Defamation League (ADL), and cyberstalking against a woman. Journalist Juan Thompson formerly was a reporter for DNAinfo, a reporter for The Intercept, and worked briefly for WBEZ public radio in Chicago. Juan Thompson was previously in the news when the public was informed that he had been falsifying news reports, creating fake email addresses, making up false quotes, and other fabrications, while reporting for The Intercept. On social media, Juan Thompson's Twitter account included a number of hate-filled and racist attacks, including attacks on the woman who he was cyberstalking, including using her name in bomb threats against the JCC.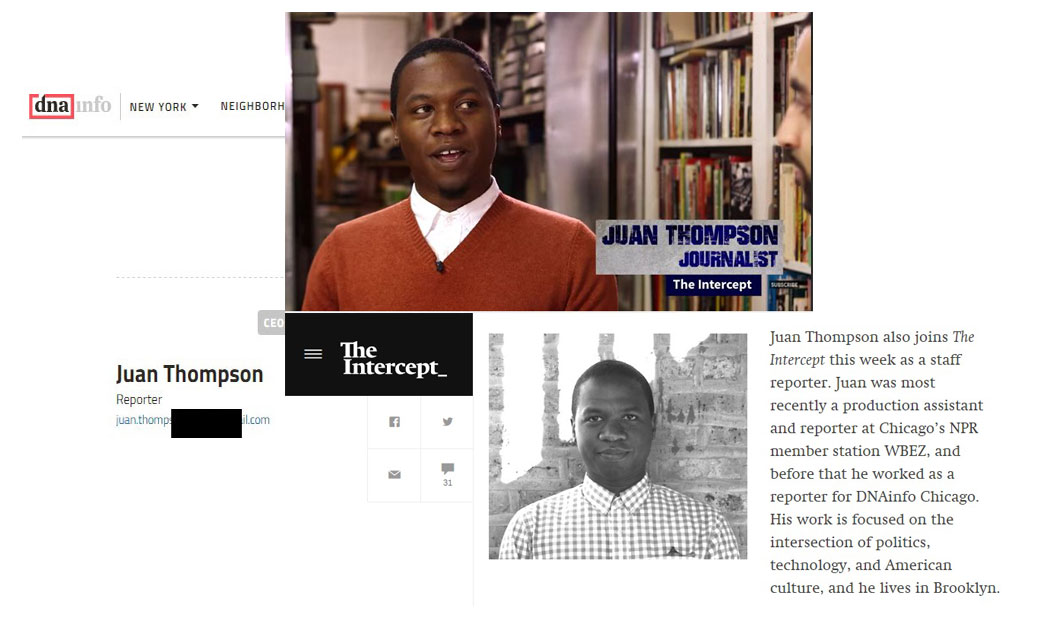 In the March 1, 2017 federal criminal complaint against Juan Thompson, the U.S. Department of Justice accused him of acting "with the intent to kill, injure, harass, intimidate, and place under surveillance with intent to kill, injure, harass, and, and intimidate another person, used the mail, any interactive computer service and electronic communication service and electronic communication system of interstate commerce, and any other facility of interstate and foreign commerce to engage in a course of conduct that placed that person in reasonable fear of the death of and serious bodily injury to that person and caused, attempted to cause, and would be reasonably expected to cause substantial emotional distress to that person."
The federal criminal complaint provides some details of eight bomb threats against the Jewish centers, charged to Juan Thompson.  It links Juan Thompson to a threat of a "C-4" bomb explosive against the Anti-Defamation League headquarters in New York City.  The complaint links Juan Thompson to bomb threats against Jewish Community Center offices, including email statements that his cyberstalking victim "sought to kill as many Jews asap."  The complaint documents links to Juan Thompson to bomb threats against Jewish facilities and museums in California, Texas, New York, Michigan.
The federal criminal complaint against journalist Juan Thompson also states that he used his fake email addresses to threat to kill his cyberstalking victim, and that he used his cyberstalking victim's name in threats against the Jewish center.  The complaint also states that his cyberstalking including spreading false information about the victim, claiming the victim was engaging in child pornography, spreading nude images of the victim, and contacting the victim's place of work and claiming that she was anti-Semitic.
U.S. Attorney Preet Bharara said: "Everyone deserves to be free from fear and discrimination based on religion, race, or ethnicity; that is fundamental to who we are as a nation." U.S. Attorney Preet Bharara also stated: "Threats of violence targeting people and places based on religion or race – whatever the motivation – are unacceptable, un-American, and criminal. We are committed to pursuing and prosecuting those who foment fear and hate through such criminal threats."
FBI Assistant Director-in-Charge William F. Sweeney Jr. said: "Thompson's alleged pattern of harassment not only involved the defamation of his female victim, but his threats intimidated an entire community. The FBI and our partners take these crimes seriously. I would also like to thank the NYPD and the New York State Police, who continue to work shoulder to shoulder with us as we investigate and track down every single threat and work together to achieve justice for our communities that have been victimized by these threats."
Juan Thompson used his social media Twitter account to claim that he was first visited by the FBI on February 10, writing the police "are out for blood."  But the threats reportedly not only continued, but actually accelerated after this, without any fear of consequences by the law.  Juan Thompson's social media Twitter account spread hatred and contempt in many of its messages, promotion of Communism, and calls for violence against the police, white Americans, and others, promoting messages such as the "Only thing these Devils understand is bloodshed."
As this criminal complaint only addresses eight threats to Jewish centers across the United States, R.E.A.L. expects that an ongoing investigation remains in process, and that other suspects will also be charged for their crimes. This arrest should at least show those who seek to make such threats against others that law enforcement does take such threats seriously, and that no one is above the law.
R.E.A.L. also calls upon other U.S. news media and journalist organizations to take serious consideration of their actions and employees over the past year. We have seen repeated death threats from various media reporters, such as Steven Borowiec reporting for the L.A. Times calling for the death of Donald Trump, unparalleled libelous and vicious attacks, and open calls and incitement for public violence.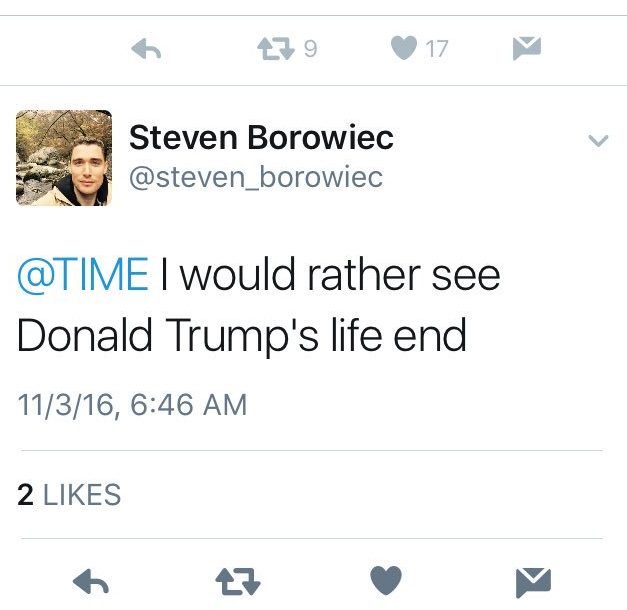 R.E.A.L. recently reported on a number of major news media outlets, with open calls for public violence in Newsweek, The Nation, The Independent, as well as incitement to violence in the Washington Post, New York Times, and Guardian.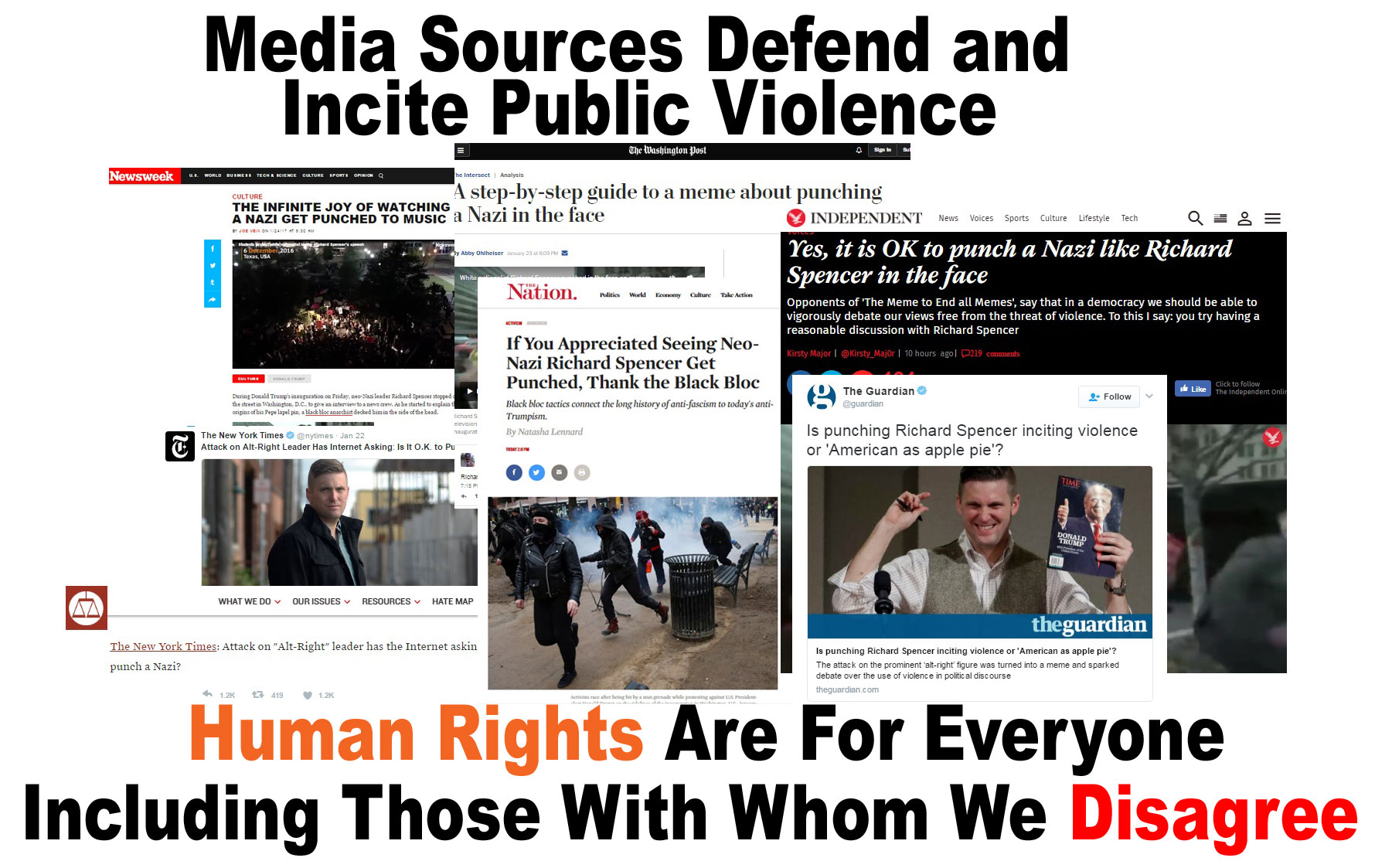 The advocates of our shared universal human rights will find it increasingly difficult to defend a free press, when too many members of that press are using their free press protections to call for criminal violence, and incite criminal violence. Today, we now see a member of the press now arrested for violent bomb threats and death threats.
What exactly is it going to take for responsible members of the U.S. media to wake up and to police their fellow journalists to use their free press role to report the news, instead of being involved in criminal threats against the public?
The U.S. media and journalist organizations must make it clear that they understand criminal threats against the safety of others is wrong, against the law, and not acceptable – EVER – for any news or media organization – and for any journalist.
R.E.A.L. calls for the U.S. news media and other journalist organizations to condemn and denounce all those calls for violence, threats of violence, and now, bomb threats, made by members of the journalistic community. We need a voice of responsibility from the new media community that respects that no one, including themselves, is above the law or the responsibility of our shared universal human rights.