As first reported in the London Times and then the Daily Mail, a group of women have been using social media to promote extremist views.  The London Times' Dipesh Gadher described this as  a "women's network is using macabre images on social media to raise funds for convicted terrorists and their families."  The Daily Mail reported that the " network across several social media platforms are a hotbed for extremism, filled with propaganda posters and homemade letters decorated in love hearts and glitter for jailed Muslim prisoners involving in terror cases."
Responsible for Equality And Liberty (R.E.A.L.) was able to directly confirm these media reports by discovering such a network on Twitter and other social media sources.  The online media sources via the prisons where extremist and terrorists are being held as "kuffar" prisons. This "Free Our Sisters" network included an image of a celebration cake for the 9/11 Terrorist attack and praising Osama Bin Laden, as well as the routine trademark raised index finger on numerous postings in support of the ISIS terrorist organization.  Osama Bin Laden was responsible for leading the Al Qaeda organization and its plot to murder 2,977 Americans on multiple attacks on the United States via hijacked jetliners, destroying the World Trade Center towers in New York City, attack the Pentagon in Washington DC, and an attempt to destroy the Congressional building or White House in Washington DC which failed due to passengers fighting back over the skies of Pennsylvania.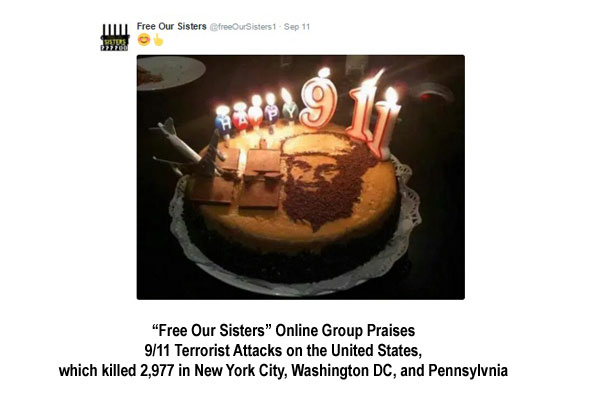 This has also included "Free Our Sisters" network support for Pakistani woman terrorist Afia Siddiqui, a Pakistan Al-Qaeda operative, who is currently serving 86 years in federal prison.  Federal law enforcement believed that she was  plotted terrorist attacks inside the United States of America, including plots in New York City, Boston, and suspicious travel near Washington DC in the Maryland suburbs.   After she was identified as a terrorist operative in the United States, she disappeared to Afghanistan.  She was arrested in Afghanistan, and charged in a sealed criminal complaint in the United States District Court for the Southern District of New York, with assault with a deadly weapon and with attempting to kill a U.S. Army Captain "while engaged in… official duties." She was charged on two counts of attempted murder of US nationals, officers, and employees, assault with a deadly weapon, carrying and using a firearm, and three counts of assault on US officers and employees.  According to her indictment, she was carrying documents in describing "the construction of 'dirty bombs,' chemical and biological weapons, and other explosives (including mortality rates) and plans for  'mass casualty attack' and that listed various locations in the United States, including Plum Island, the Empire State Building,the Statue of Liberty, Wall Street, and the Brooklyn Bridge."  When she was arrested in Afghanistan, she was carrying in her purse handwritten notes and a computer thumb drive containing recipes for conventional bombs and weapons of mass destruction, instructions on how to make machines to shoot down US drones, descriptions of New York City landmarks with references to a mass casualty attack, and two pounds of sodium cyanide in a glass jar.   Afia Siddiqui was a graduate of the  Massachusetts Institute of Technology (MIT), and obtained a Ph.D. doctoral degree from Brandeis University, where she taught a Biology Laboratory course.  Media reports stated that Khalid Sheikh Muhammad, the alleged al-Qaeda chief planner of the 11 September attacks, named Afia Siddiqui as an Al-Qaeda operative.  Khalid Sheikh Muhammad was related to Afia Siddiqui, as her second husband's uncle.  Prior to being identified as a terrorist operative, Afia Siddiqui, created a non-profit agency for fundraising and education called the "Institute of Islamic Research and Teaching," and had previously been involved with other non-profits.
However, "Free Our Sisters" views Afia Siddiqui as an oppressed woman, who they are seeking to support, and they describe her imprisonment for her crimes as "American Terrorism."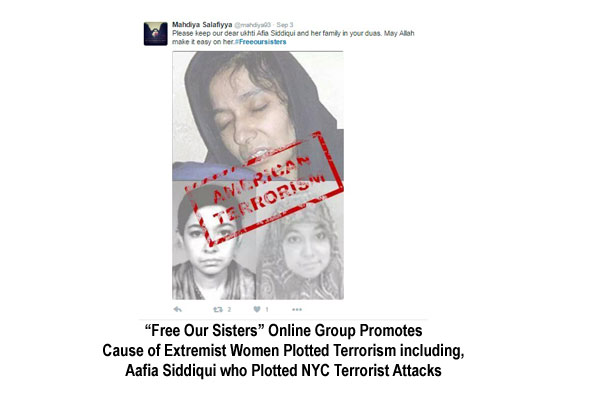 Support for terrorist extremists by the "Free Our Sisters" also includes support for men arrested for terrorism, such as Briton Mizanur Rahman  (aka Abu Baraa) who has previously been convicted on solicitation to murder.  In addition, in 2006, the Sun reported that "Rahman is said to have told fellow demonstrators: "Oh Allah, we want to see another 9/11 in Iraq, another 9/11 in Denmark, another 9/11 in Spain, in France, all over Europe. Oh Allah, destroy all of them."" Then in August 2015, he was re-arrested for support for the ISIS terrorist organization.  The "Free Our Sisters" also promotes writing letters on Abu Baraa's behalf.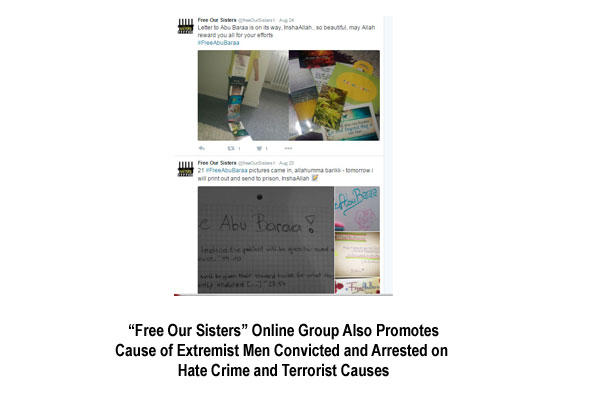 To who might recognize this is as a minority voice, Responsible for Equality And Liberty (R.E.A.L.) is disappointed that there is not enough majority voices speaking out against such support for terrorist figures.
————————-
Responsible for Equality And Liberty (R.E.A.L.) stands in support of our universal human rights for all, and we stand in defiance against those, including terrorist and hate groups, which seek to attack such universal human rights, dignity, and security for all.